The Big Green (1995 Movie)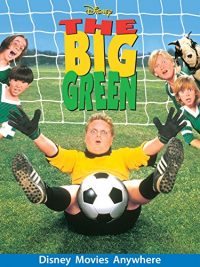 The Big Green Description:
In Disney's The Big Green, nothing ever happens in Elma, Texas, at least not until British schoolteacher Anna Montgomery arrives. Determined to motivate her students, Anna decides to form a soccer team. She enlists the aid of out-of-shape sheriff Tom Palmer, who agrees to coach the team so he can beat his old nemesis, the ruthless coach of the big city bullies, the Knights.
Key Cast Members:
Olivia d'Abo: Miss Anna Montgomery
Steve Guttenberg: Deputy Sheriff Tom Palmer
Jay O. Sanders: Coach Jay Huffer
John Terry: Edwin V. Douglas
Chauncey Leopardi: Evan Schiff
Patrick Renna: Larry Musgrove
Billy L. Sullivan: Jeffrey Luttrell
Yareli Arizmendi: Marbelly Morales
Bug Hall: Newt Shaw
Jessica Robertson: Kate Douglas
Jordan Brower: Nick Anderssen
Libby Villari: Brenda Neilson
Anthony Esquivel: Juan "Mexi-Kid" Morales
Hayley Kolb: Sophia Convertino
Haley Miller: Polly Neilson
Ashley Welch: Lou Gates
Jimmy Higa: Tak
---
---
---
---