The Cemetery Club (Touchstone Movie)
Here is everything you need to know about the amazing Touchstone movie The Cemetery Club including casting, reviews, fun facts and more. I hope you find this listing informative and helpful!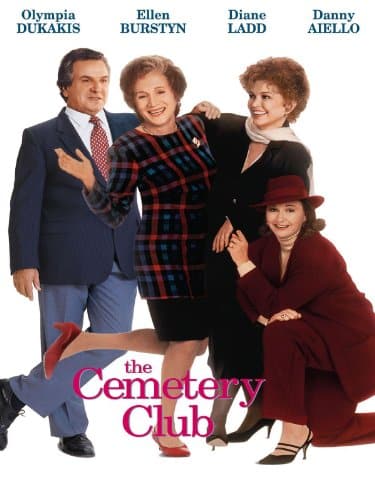 The Cemetery Club Details:
This all-star cast lights up the screen with irresistible laughter and captivating charm! Once a week, a circle of lifelong friends meet to pay tribute to the past. But when life throws them a few unexpected curves, they happily discover the best times are still ahead! Academy Award(R)-winners Olympia Dukakis and Ellen Burstyn, team up to deliver genuinely delightful performances in this enchanting comedy treat! Join them for a fun-filled celebration you're sure to enjoy.
Key Cast:
Ellen Burstyn: Esther Moskowitz
Olympia Dukakis: Doris Silverman
Diane Ladd: Lucille Rubin
Danny Aiello: Ben Katz
Lainie Kazan: Selma
Jeff Howell: Paul
Christina Ricci: Jessica
Bernie Casey: John
Wallace Shawn: Larry
Catherine Keener: Esther's Daughter
Key Crew:
Director: Bill Duke
Producers: Howard Hurst, David Brown, Sophie Hurst, Philip Rose and Bonnie Palef
Writer: Ivan Menchell
---
Related Articles:
---