The Dapper Dans (Disneyland)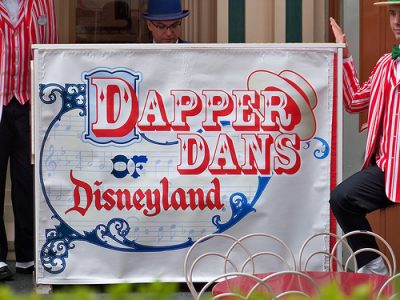 The Dapper Dans Description:
Gather 'round when the Dapper Dans come to town, the finest barbershop quartet in a 2-block radius! Wearing their colorful pinstriped suits, straw hats and taps, this 4-man group sings a scintillating selection of a capella Americana and Disney tunes, including:
"Yankee Doodle Dandy"
"Strolling Through the Park"
"Mr. Sandman"
"If You're Happy and You Know It"
"Zip-a-Dee Doo Dah"
Add some tip-top tap dancing and "pun"-forgettable vaudeville humor, and you have an act the whole family will enjoy!
Photo by Castles, Capes & Clones
---
Disney Park(s) in this Post:
Disneyland Park
---
---
---