The Fox and the Hound 2 (2006 Movie)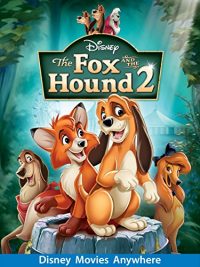 The Fox and the Hound 2 Description:
Get ready to go a little bit country. In the classic tale of friendship and loyalty, Tod and Copper still go together like an itch and a scratch, but when Copper gets a shot at the big time with a nutty group of hound dog howlers, their purebred friendship is put to the test. Experience the irresistible adventure of "The Fox And The Hound 2"!
Key Cast Members:
Reba McEntire: Dixie
Patrick Swayze: Cash
Jonah Bobo: Tod
Harrison Fahn: Copper
Jeff Foxworthy: Lyle
Vicki Lawrence: Granny Rose
Stephen Root: Winchell P. Bickerstaff
Jim Cummings: Waylon and Floyd
Rob Paulsen: Chief
Russi Taylor: Widow Tweed
Jeff Bennett: Amos Slade
Kath Soucie: Zelda the cat
Hannah Farr: Olivia Farmer
Disney Character(s) in this Post:
Amos Slade (The Fox and the Hound)