The Game Plan (2007 Movie)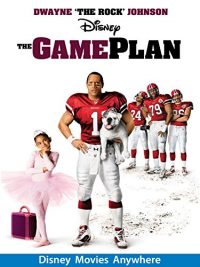 The Game Plan Description:
In Disney's The Game Plan, tne of sports' toughest players ever takes on his biggest challenge yet – fatherhood! A superstar with an ego bigger than a football field, Joe Kingman is getting ready for a run at the big championship game when the 8-year-old daughter he never knew existed shows up at his not-so-family-friendly bachelor pad. As the big game gets closer, he begins to realize the most meaningful win he can achieve is the heart of the one little fan who counts the most.
Key Cast Members:
Dwayne Johnson: Joe Kingman
Madison Pettis: Peyton Kelly
Roselyn Sánchez: Monique Vasquez
Kyra Sedgwick: Stella Peck
Morris Chestnut: Travis Sanders
Paige Turco: Karen Kelly
Hayes MacArthur: Kyle Cooper
Brian J. White: Jamal Webber
Jamal Duff: Clarence Monroe
Lauren Storm: Nanny Cindy
Gordon Clapp: Coach Mark Maddox
Kate Nauta: Tatianna
Robert Torti: Samuel Blake Jr.