The Hitchhiker's Guide to the Galaxy (Touchstone Movie)
Here is everything you need to know about the amazing Touchstone movie The Hitchhiker's Guide to the Galaxy including casting, reviews, fun facts and more. I hope you find this listing informative and helpful!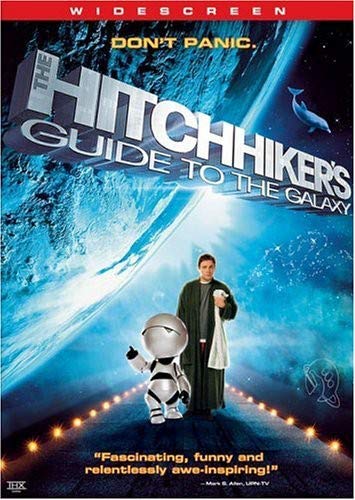 The Hitchhiker's Guide to the Galaxy Details:
Here's the absolutely hysterical, wonderfully wild, cosmic adventure comedy THE HITCHHIKER'S GUIDE TO THE GALAXY. Based on Douglas Adams' worldwide best-selling novel, and starring an outrageous intergalactic cast, this is one ride you don't want to miss. Seconds before Earth is destroyed to make way for a new hyperspace express route, mild-mannered Arthur Dent is whisked into space by his best friend (an alien posing as an out-of-work actor). And so the misadventures begin as he and fellow travelers, including the cool but dim-witted President of the Galaxy, the Earth girl Trillian, and Marvin the paranoid android, search for answers to the mystery of Life, the Universe, and Everything.
Key Cast:
Sam Rockwell: Zaphod Beeblebrox
Mos Def: Ford Prefect
Zooey Deschanel: Trillian
Martin Freeman: Arthur Dent
Bill Nighy: Slartibartfast
Warwick Davis: Marvin
Anna Chancellor: Questular Rontok
Alan Rickman: voice of Marvin
Helen Mirren: voice of Deep Thought
Stephen Fry: Narrator/voice of the Guide
John Malkovich: Humma Kavula
Key Crew:
Director: Garth Jennings
Producers: Gary Barber, Roger Birnbaum, Jonathan Glickman, Nick Goldsmith, Jay Roach
Screenplay: Douglas Adams and Karey Kirkpatrick
---
Related Articles:
---