The Insider (Touchstone Movie)
Here is everything you need to know about the amazing Touchstone movie The Insider including casting, reviews, fun facts and more. I hope you find this listing informative and helpful!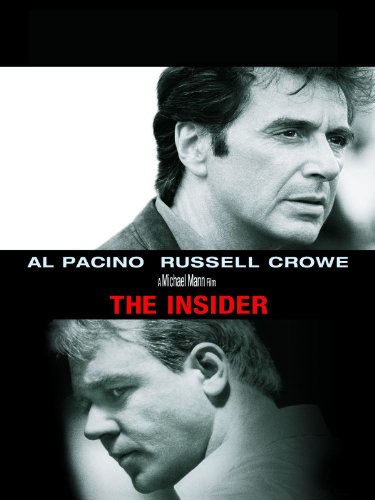 The Insider Details:
THE INSIDER recounts the chain of events that pitted an ordinary man against the tobacco industry and dragged two people into the fight of their lives. Academy Award-winner Al Pacino gives a powerful performance as producer Lowell Bergman and Academy Award Winner Russell Crowe co-stars as the ultimate insider, former tobacco executive Dr. Jeffrey Wigand. When Wigand is fired by his employer — one of the largest tobacco companies in America — he agrees to become a paid consultant for a story Bergman is working on regarding alleged unethical practices within the tobacco industry. But what begins as a temporary alliance leads to a lengthy battle for both men to save their reputations, and much, much more. As they soon find out, Corporate America will use all legal means at its disposal to save a billion-dollar-a-year habit. And as the corporate giants soon find out, Bergman and Wigand are honorable men, driven to smoke out the evidence. Also starring Christopher Plummer as anchor Mike Wallace and Gina Gershon, THE INSIDER will chill you with its cold, hard edge — and thrill you with its unbelievable twists and turns.
Key Cast:
Al Pacino: Lowell Bergman
Russell Crowe: Jeffrey Wigand
Christopher Plummer: Mike Wallace
Diane Venora: Liane Wigand
Philip Baker Hall: Don Hewitt
Lindsay Crouse: Sharon Tiller
Debi Mazar: Debbie De Luca
Renee Olstead: Deborah Wigand
Hallie Kate Eisenberg: Barbara Wigand
Stephen Tobolowsky: Eric Kluster
Colm Feore: Richard Scruggs
Bruce McGill: Ron Motley
Gina Gershon: Helen Caperelli
Michael Gambon: B&W CEO Thomas Sandefur
Rip Torn: John Scanlon
Cliff Curtis: Sheikh Fadlallah
Gary Sandy: Sandefur's lawyer
Roger Bart: Seelbach hotel manager
Jack Palladino: himself
Mike Moore: himself
Key Crew:
Director: Michael Mann
Producers: Michael Manna nd Pieter Jan Brugge
Writer: Eric Roth and Michael Mann
---
Related Articles:
---