The Light In The Forest (1958 Movie)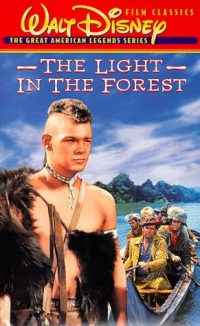 The Light In The Forest Description:
In the Disney classic film The Light In The Forest, the year is 1764 when a peace treaty between the Delaware Indians and the British requires that all white captives be returned to their people. Johnny Butler (James MacArthur), kidnapped by the tribe when he was a child and renamed True Son, is forced against his will to return to his white family in Pennsylvania. His escort, frontiersman Del Hardy (Fess Parker) and Shenandoe, a beautiful servant girl (Carol Lynley, in her feature film debut), try to help the boy adjust to his new way of life. But the white man's injustice and cruelty drive him back to the Delawares, where even greater dangers await him!
Key Cast Members:
Fess Parker: Del Hardy
Wendell Corey: Wilse Owens
Joanne Dru: Milly Elder
James MacArthur: Johnny Butler/True Son
Jessica Tandy: Myra Butler
John McIntire: John Elder
Joseph Calleia: Chief Cuyloga
Carol Lynley: Shenandoe
Rafael Campos: Half Arrow
Frank Ferguson: Harry Butler
Dean Fredericks: Niskitoon
Marian Seldes: Kate Owens
Stephen Bekassy: Col. Henry Bouquet
Sam Buffington: George Owens
---
---
---
---