The Love Bug (1968 Movie)
Here is everything you need to know about the amazing Disney movie The Love Bug including casting, reviews, fun facts and more. I hope you find this listing informative and helpful!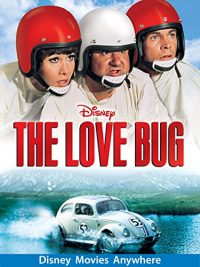 The Love Bug Description:
Herbie, the lovable car with a mind of his own. In Disney's The Love Bug, Dean Jones, Michele Lee, and Buddy Hackett join Herbie in this revved-up comedy classic. Jones plays down-on-his-luck race car driver Jim Douglas, who reluctantly teams up with the little machine. Douglas thinks his sudden winning streak is due to his skill, not Herbie's. He finally realizes the car's worth when a sneaky rival plots to steal Herbie for himself.
Key Cast Members:
Dean Jones: Jim Douglas
Michele Lee: Carole Bennet
David Tomlinson: Peter Thorndyke
Buddy Hackett: Tennessee Steinmetz
Joe Flynn: Havershaw
Benson Fong: Tang Wu
Joe E. Ross: Detective
Barry Kelley: Police sergeant
Iris Adrian: Carhop
Gary Owens: Announcer
Chick Hearn: Announcer
Andy Granatelli: Association President
Ned Glass: Toll Booth Attendant
Robert Foulk: Bice
Gil Lamb: Policeman at Park
Nicole Jaffe: Girl in Dune-Buggy
Wally Boag: Flabbergasted Driver
Russ Caldwell: Boy Driving Dune-Buggy
Peter Renaday: Policeman on Bridge
Brian Fong: Chinese carrying Herbie
Pedro Gonzalez Gonzalez: Mexican Driver
Dale Van Sickel: Driver