The Magic Carpets of Aladdin (Disney World Ride)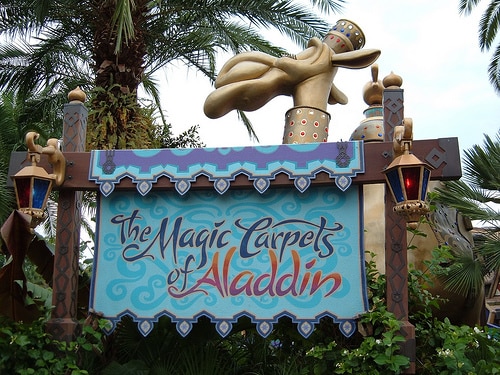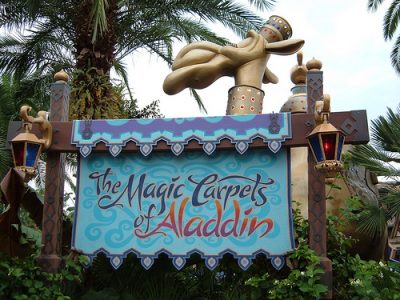 The Magic Carpets of Aladdin Description:
On The Magic Carpets of Aladdin, fly high over Agrabah on a magic carpet around a giant genie lamp.
Take off on a magical ride above a bustling bazaar aboard an enchanted carpet that you control. Climb aboard a colorful, 4-passenger vehicle and take off into the air as the strings of Middle Eastern music play overhead.
Rotate around a giant genie bottle and magic lamp—bobbing up and down, forward and back—as the lush flora and weathered walls of the bazaar whirl by below. But be on the lookout: An unruly camel who likes to occasionally "spit" water at flying carpets has been seen nearby!
Your Wish, Your Command
As the master of your very own flying carpet, you are in control of your flight. If you're seated in the front row, direct how high or low you fly by moving an onboard lever up or down. If you're sitting in the back row, pressing a magic scarab will tip your flying carpet forward or backward.
The Magic Carpets of Aladdin is based on the hit Disney animated feature Aladdin. The story continues at Magic Kingdom park as the lovable Genie, in a fit of flight and fancy, has conjured up an entire fleet of magic carpets—16 in all—for adventure-seeking Guests to experience on this attraction. (source)
The Magic Carpets of Aladdin Ride Through Video:
Disney Character(s) in this Post:
Aladdin (Character)