The Mighty Ducks (1992 Movie)
Here is everything you need to know about the amazing Disney movie The Mighty Ducks including casting, reviews, fun facts and more. I hope you find this listing informative and helpful!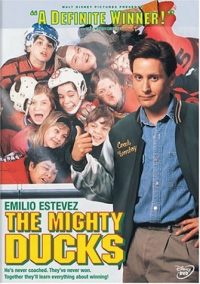 The Mighty Ducks Description:
Tough trial lawyer Gordon Bombay (Emilio Estevez) never loses. But when he's slapped with a community service assignment, he must coach a ragtag team of pee wee hockey players who can't skate, can't score, and can't win! Reluctantly, Bombay takes on the assignment and soon realizes there are more important things than winning. Armed with this new attitude, feathers fly as Bombay and the Ducks battle along to the toughest game of their lives!
Key Cast Members:
Emilio Estevez: Gordon Bombay
Joss Ackland: Hans
Lane Smith: Coach Jack Reilly
Heidi Kling: Casey Conway
Josef Sommer: Mr. Gerald Ducksworth
Joshua Jackson: Charlie Conway
Elden Henson: Fulton Reed
Shaun Weiss: Greg Goldberg
Brandon Adams: Jesse Hall
C. Gainey: Lewis
Matt Doherty: Lester Averman
D. Daniels: Peter Mark
Aaron Schwartz: Dave Karp
Garette Ratliff Henson: Guy Germaine
Marguerite Moreau: Connie Moreau
Vincent Larusso: Adam Banks
Jussie Smollett: Terry Hall
Danny Tamberelli: Tommy Duncan
Jane Plank: Tammy Duncan
Michael Ooms: McGill
Casey Garven: Larson
Hal Fort Atkinson III: Phillip Banks
Basil McRae: Himself
Mike Modano: Himself
John Beasley: Mr. Hall
Brock Pierce: Young Gordon Bombay
Robert Pall: Gordon's Father
John Paul Gamoke: Mr. Tolbert
Steven Brill: Frank Huddy
George Coe: Judge
The Mighty Ducks Trailer
---
Related News:
---