The Monkey's Uncle (1965 Movie)
Here is everything you need to know about the amazing Disney movie The Monkey's Uncle including casting, reviews, fun facts and more. I hope you find this listing informative and helpful!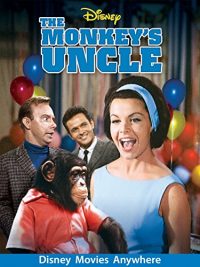 The Monkey's Uncle Description:
In Disney's The Monkey's Uncle, college whiz-kid Merlin (Tommy Kirk) reluctantly goes to work to prevent the school's football mascot from disappearing into oblivion. A $10 million endowment for the campus is riding on whether he can get a man to fly under his own steam.
Key Cast Members:
Tommy Kirk: Merlin Jones
Annette Funicello: Jennifer
Leon Ames: Judge Holmsby
Arthur O'Connell: Darius Green III
Frank Faylen: Mr. Dearborne
Leon Tyler: Leon
Norman Grabowski: Norman
Cheryl Miller: Lisa
Connie Gilchrist: Mrs. Gossett
Alan Hewitt: Professor Shattuck
Gage Clarke: College President
Mark Goddard: Haywood
Harry Holcombe: Regent
Alexander Lockwood: Regent
Harry Antrim: Regent
Brian Wilson: Himself
Carl Wilson: Himself
Dennis Wilson: Himself
Al Jardine: Himself
Mike Love: Himself