The Other Sister (Touchstone Movie)
Here is everything you need to know about the amazing Touchstone movie The Other Sister including casting, reviews, fun facts and more. I hope you find this listing informative and helpful!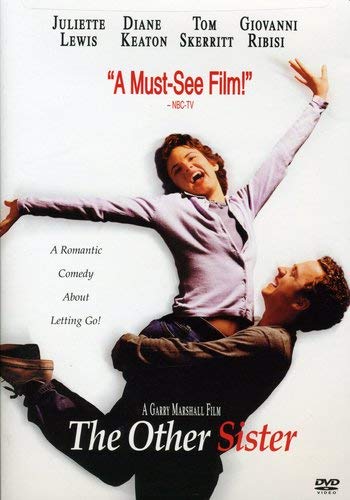 The Other Sister Details:
Even though Carla (Juliette Lewis) has grown into a very capable young woman, her nervous mother (Diane Keaton) still has a major meltdown when Carla announces she's in love for the first time! So as Carla and her new boyfriend (Giovanni Ribisi) set out to experience all of life's great adventures, they're also out to prove that Carla has earned her independence!
Key Cast:
Juliette Lewis: Carla Tate
Kendra Krull: Young Carla
Diane Keaton: Elizabeth Tate
Tom Skerritt: Dr. Radley Tate
Giovanni Ribisi: Daniel "Danny" McMann
Poppy Montgomery: Caroline Tate
Brooke Garrett: Young Caroline
Sarah Paulson: Heather Tate
Brighton McCloskey: Young Heather
Linda Thorson: Drew Evanson
Joe Flanigan: Jeff Reed
Juliet Mills: Winnie the Housekeeper
Tracy Reiner: Michelle
Hector Elizondo: Ernie
Key Crew:
Director: Garry Marshall
Producers: Mario Iscovich and Alexandra Rose
Screenplay: Bob Brunner and Garry Marshall
---
Related Articles:
---