The Ref (Touchstone Movie)
Here is everything you need to know about the amazing Touchstone movie The Ref including casting, reviews, fun facts and more. I hope you find this listing informative and helpful!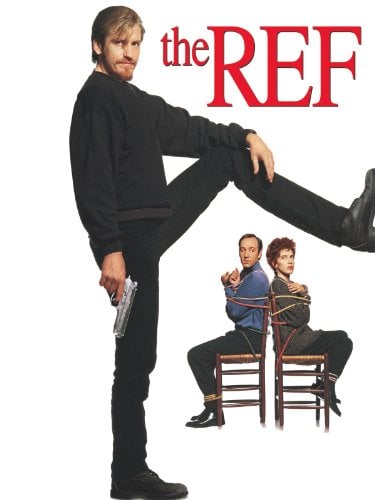 The Ref Details:
Denis Leary plays an unfortunate cat burglar who becomes trapped in a fate worse than jail when he takes a bickering couple (Kevin Spacey, Judy Davis) and their annoying relatives hostage. Before long, they're driving him nuts, and the line between who is whose hostage begins to blur. His only hope for survival is to act as their referee and resolve their differences – or its going to mean instant insanity for everyone! Spend a hysterically funny evening with The Ref – you're sure to experience an irreverent and fun-filled time!
Key Cast:
Denis Leary: Gus
Judy Davis: Caroline
Kevin Spacey: Lloyd
Robert J. Steinmiller Jr.: Jesse
Glynis Johns: Rose
Raymond J. Barry: Lt. Huff
Richard Bright: Murray
Christine Baranski: Connie
Adam LeFevre: Gary
Phillip Nicoll: John
Ellie Raab: Mary
Bill Raymond: George
John Scurti: Lt. Steve Milford
Jim Turner: Phil
Ron Gabriel: Limo Driver
Edward Saxon: Mike Michaels
Kenneth Utt: Jeremiah Willard
Robert Ridgely: Bob Burley
J.K. Simmons: Siskel
B.D. Wong: Marriage Counselor Dr. Wong
Key Crew:
Director: Ted Demme
Producers: Ron Bozman, Richard LaGravenese and Jeffrey Weiss
Writers: Richard LaGravenese and Marie Weiss
Music: David Steward
---
Related Articles:
---