The Rocketeer (Touchstone Movie)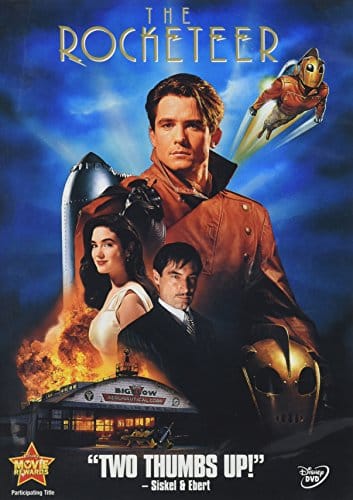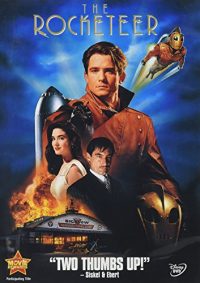 The Rocketeer Details:
The discovery of a top-secret jetpack hurls test pilot Cliff Secord into a daring adventure of mystery, suspense and intrigue. Cliff encounters an assortment of ruthless villains, led by a Hollywood screen star who's a secret spy. With the help of his actress girlfriend, the young pilot battles enormous odds to defeat his foes, who are anxious to use the device in an evil plan to rule the world.
Key Cast:
Billy Campbell: Cliff Secord/The Rocketeer
Jennifer Connelly: Jenny Blake
Alan Arkin: A. "Peevy" Peabody
Timothy Dalton: Neville Sinclair
Terry O'Quinn: Howard Hughes
Ed Lauter: Fitch
James Handy: "Wooly" Wolinski
Paul Sorvino: Eddie Valentine
Jon Polito: Otis Bigelow
William Sanderson: Skeets
Margo Martindale: Millie
John Lavachielli: Rusty
Clint Howard: Mark
Melora Hardin: South Seas Singer
Rick Overton: South Seas Patron
Max Grodénchik: Wilmer
Tiny Ron Taylor: Lothar
Eddie Jones: Malcolm
Don Pugsley: Goose
Nada Despotovich: Irma
America Martin: Patsy
Michael Milhoan: Jeff
Daniel O'Shea: Mike
Joe D'Angerio: Stevie
Tommy J. Huff: Lenny
Pat Crawford Brown: Mrs. Pye
Paul DeSouza: Pauly
Gene Daily: Clark Gable
Bob Leeman: W.C. Fields
Julian Barnes: Charlie
Key Crew:
Director: Joe Johnston
Producers: Charles Gordon, Lawrence Gordon and Lloyd Levin
Screenplay: Danny Bilson and Paul De Meo
Music: James Horner
Disney Character(s) in this Post:
Cliff Secord/The Rocketeer