The Shaggy DA (1976 Movie)
Here is everything you need to know about the amazing Disney movie The Shaggy DA including casting, reviews, fun facts and more. I hope you find this listing informative and helpful!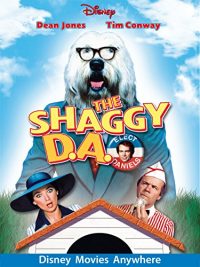 The Shaggy DA Description
In Disney's The Shaggy DA, disgusted by the shady dealings of not-so "Honest" John Slade, Wilby Daniels decides to run for District Attorney, but when robbers steal the magic Borgia ring that "dogged" Wilby as a teenager, the fur really begins to fly! Once again, Wilby keeps turning into a large, talking sheepdog at the worst possible moments when the ring's magical incantation is read aloud.
Key Cast Members:
Dean Jones: Wilby Daniels
Tim Conway: Tim
Suzanne Pleshette: Betty Daniels
Keenan Wynn: John Slade
Jo Anne Worley: Katrinka Muggelberg
Dick Van Patten: Raymond
Shane Sinutko: Brian Daniels
Vic Tayback: Eddie Roshak
John Myhers: Admiral Brenner
Richard Bakalyan: Freddie
Warren Berlinger: Dip
John Fiedler: Howie Clemmings
Hans Conried: Professor Whatley
Michael McGreevey: Sheldon
Richard O'Brien: Desk sergeant
Richard Lane: Roller rink announcer
Benny Rubin: Waiter
Ruth Gillette: Song chairman
Hank Jones: Policeman
Iris Adrian: Manageress
Pat McCormick: Bartender
Henry Slate: Taxi driver
Milton Frome: Auctioneer
Walt Davis: TV cameraman
Albert Able: TV technician
Mary Ann Gibson, Helene Winston, Joan Crosby: Daisyettes
Sarah Fankboner: Shopper
Danny Wells: Police official
Herb Vigran, Olan Soule: Bar patrons
Vern Rowe: Dawson
Karl Lukas: Painter
John Hayes: Stranger
Christina Anderson: Lonnie