The Tie That Binds (Hollywood Pictures Movie)
Here is everything you need to know about the amazing Hollywood Pictures movie The Tie That Binds including casting, reviews, fun facts and more. I hope you find this listing informative and helpful!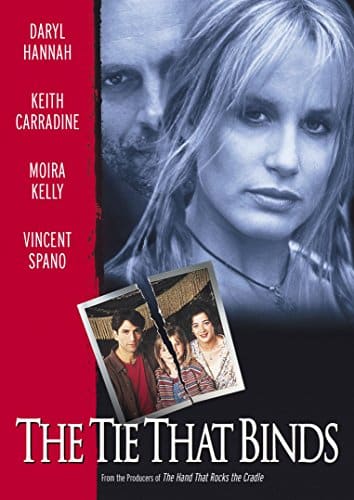 The Tie That Binds Details:
Daryl Hannah (Splash) leads an all-star cast in The Tie That Binds – When a childless couple (Moira Kelly, The Cutting Edge and Vincent Spano, Indian Summer) adopts an abandoned little girl, they discover a happiness they've never known before. But their new life is violently shattered when the girl's natural parents – a dangerous pair of outlaws (Hannah, and Keith Carradine, The Long Riders) – reappear to claim what's theirs. It's heart-stopping thrills as one couple is forced to fight for their lives – against another who will stop at nothing to take their daughter back. Veteran Hollywood screenwriter Wesley Strick (Cape Fear, True Believer) made his directorial debut with this suspenseful thriller from the producers of The Hand That Rocks the Cradle.
Key Cast:
Daryl Hannah: Leann Netherwood
Keith Carradine: John Netherwood
Vincent Spano: Russell Clifton
Moira Kelly: Dana Clifton
Julia Devin: Janie
Bruce A. Young: Gil Chandler
Cynda Williams: Lisa Marie Chandler
Ray Reinhardt: Sam Bennett
Barbara Tarbuck: Jean Bennett
Carmen Argenziano: Phil Hawkes
Jenny Gago: Maggie Hass
Ned Vaughn: Officer David Carrey
George Marshall Ruge: Detective Frank Mercer
Key Crew:
Director: Wesley Strick
Producers: David Madden, Patrick Markey, John Morrissey and Susan Zachary
Writer: Michael Auerbach