The Waterboy (Touchstone Movie)
Here is everything you need to know about the amazing Touchstone movie The Waterboy including casting, reviews, fun facts and more. I hope you find this listing informative and helpful!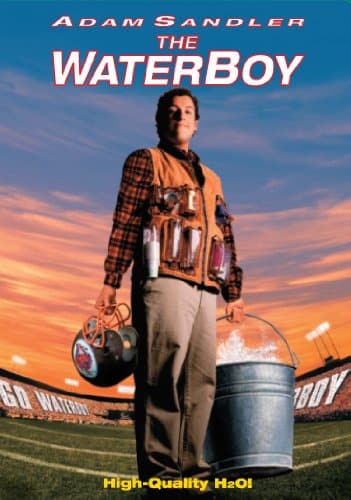 The Waterboy Details:
America's favorite wild and zany funnyman, Adam Sandler, scores big laughs in a smash comedy hit where the laughs never run dry! Just an oddball mama's boy from the back bayous of Louisiana, Bobby Boucher (Sandler) never wanted anything more than to quench the thirst of the dehydrated athletes who treat him like dirt! But when Coach Klein makes the call that allows Bobby to finally stand up for himself, it unleashes a torrent of bottled-up frustration…and exposes a talent for tackling that transforms him from a meek "water distribution engineer" to the hardest hitter ever to roam the gridiron! Also featuring award-winning Kathy Bates and sexy Fairuza Balk in a hilarious cast of stars — here's your chance to join the millions everywhere who've proudly stood and cheered for The Waterboy!
Key Cast:
Adam Sandler: Bobby Boucher, Jr.
Kathy Bates: Helen "Mama" Boucher
Henry Winkler: Coach Klein
Fairuza Balk: Vicki Vallencourt
Jerry Reed: Coach Red Beaulieu
Peter Dante: Gee Grenouille
Larry Gilliard Jr.: Derek Wallace
Blake Clark: Farmer Fran
Jonathan Loughran: Lyle Robideaux
Clint Howard: Paco
Allen Covert: Walter
Rob Schneider: The Townie
Kevin Farley: Jim Simonds
Robert Kokol: The Professor
Frank Coraci: Robert "Roberto" Boucher, Sr.
Big Show: Captain Insano
Soon Hee Newbold: Mud Dog Cheerleader
Dan Fouts: himself
Brent Musburger: himself
Lynn Swann: himself
Chris Fowler: himself
Lee Corso: himself
Trevor Miller: himself
Moosie The Cocker Spaniel: herself
Dan Patrick: himself
Lawrence Taylor: himself
Bill Cowher: himself
Jimmy Johnson: himself
Jennifer Bini Taylor: Rita
Key Crew:
Director: Frank Coraci
Producers: Jack Giarraputo, Robert Simonds and Adam Sandler
Writers: Tim Herlihy and Adam Sandler
---
Related Articles:
---