Toby Tyler (1960 Movie)
Here is everything you need to know about the amazing Disney movie Toby Tyler including casting, reviews, fun facts and more. I hope you find this listing informative and helpful!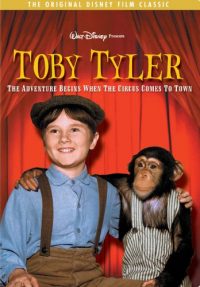 Toby Tyler Description:
In Disney's classic film Toby Tyler, Kevin Corcoran stars as the lovable, determined runaway who believes his uncle and aunt no longer want him, and life under the Big Top will put things right. Along the way he meets Ben, Mr. Tupper, and the mischievous Mr. Stubbs – a playful chimpanzee.
Key Cast Members:
Toby: Kevin Corcoran
Harry Tupper: Bob Sweeney
Sam Treat: Gene Sheldon
Ben Cotter: Henry Calvin
Colonel Sam Castle: Richard Eastham
Jim Weaver: James Drury
Mademoiselle Jeanette: Barbara Beaird
Monsieur Ajax: Dennis Olivieri
Aunt Olive: Edith Evanson
Uncle Daniel: Tom Fadden
Key Crew Members:
Director: Charles Barton
Producer: Bill Walsh
Writers: Lillie Hayward and Bill Walsh