TriceraTop Spin (Disney World Ride)
Here is everything you need to know about Walt Disney World's Animal Kingdom park's TriceraTop Spin ride including ride history, fun facts, photos and more. I hope you find this listing informative and helpful!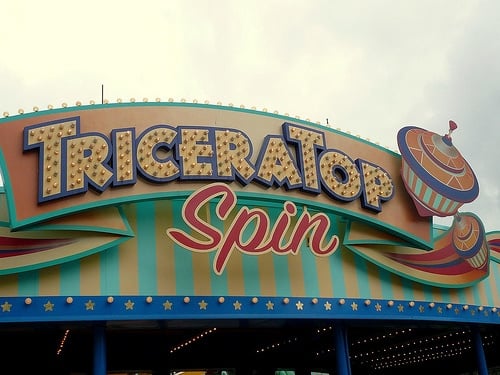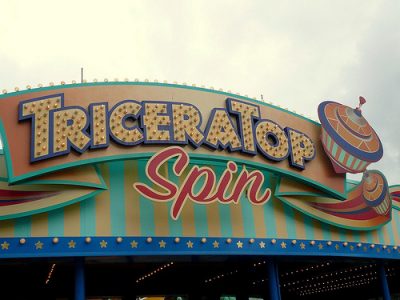 TriceraTop Spin Description:
On TriceraTop Spin, fly high on a dinosaur around a twirling tin-toy top at this delightful carnival-inspired attraction.
Spin above the ground aboard an adorable dinosaur that you control.
Stroll beneath a twinkling marquee and make your way onto a colorful, 4-person Triceratops gondola. Resembling a huge vintage tin-toy, TriceraTop Spin is a wacky carnival-themed attraction that features 16 dinosaur ride vehicles that rotate around a vibrant central top.
As festive music plays overhead, soar in the sky—bobbing up and down, forward and back. During your flight, glimpse baby dinosaurs balance balls and watch for whizzing meteors. And don't be surprised if something prehistoric appears from the giant crown in the center!
Designed for little ones and the young-at-heart, TriceraTop Spin is a blast from the prehistoric past!
How High Will You Fly?
As the master of your own dinosaur, you can control your journey. If you're seated in the back row, direct how high or low you fly by moving an onboard lever up or down. If you're sitting in the front row, maneuvering a joystick will tip your dinosaur forward or backward. (source)
Disney Park(s) in this Post:
Disney's Animal Kingdom