Tuck Everlasting (2002 Movie)
Last Updated on: June 7th, 2022
Here is everything you need to know about the amazing Disney movie Tuck Everlasting including casting, reviews, fun facts and more. I hope you find this listing informative and helpful!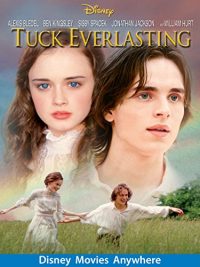 Tuck Everlasting Description
In Disney's Tuck Everlasting, young Winnie Foster, stifled by the formality of her proper life and domineering mother, escapes into the woods only to get lost. Soon she happens upon Jesse Tuck – a boy full of life and adventure who's unlike anyone she's ever met – and falls in love. The Tucks, a kind and generous family, have a powerful secret – a spring that holds the magic of everlasting life. And now Winnie must choose to live life as she knows it or drink from the spring.
Key Cast Members:
Alexis Bledel: Winnie Foster
Jonathan Jackson: Jesse Tuck
Ben Kingsley: The Man in the Yellow Suit
William Hurt: Angus Tuck
Sissy Spacek: Mae Tuck
Scott Bairstow: Miles Tuck
Amy Irving: Mrs. Foster
Victor Garber: Robert Foster
Julia Hart: Sally Hannaway
Naomi Kline: Beatrice Ruston
Robert Luis: Night Deputy
Elisabeth Shue: Narrator