Turner & Hooch (Touchstone Movie)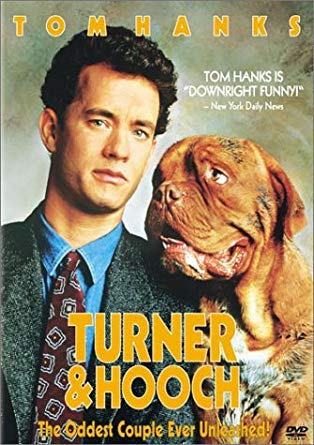 Turner & Hooch Details:
Academy Award(R) winner Tom Hanks stars as Scott Turner, a compulsively neat detective whose tidy world goes to the dogs when he's forced to team up with a drooling slob of a junkyard dog named Hooch. Not exactly man's best friend, Hooch turns Turner's life upside down, wrecking Turner's home, career and budding romance! It's a hilarious nonstop test of wills between this mismatched duo, leading to the most unlikely friendship you've ever seen!
Key Cast:
Tom Hanks: Detective Scott Turner
Beasley the Dog: Hooch
Mare Winningham: Dr. Emily Carson
Craig T. Nelson: Chief Howard Hyde
Reginald VelJohnson: Det. David Sutton
Scott Paulin: Zack Gregory
J. C. Quinn: Walter Boyett
John McIntire: Amos Reed
David Knell: Ernie
Ebbe Roe Smith: Harley McCabe
Kevin Scannell: Jeff Foster
Joel Bailey: Ferraday
Mary McCusker: Katie
Ernie Lively: Motel Clerk
Clyde Kusatsu: Kevin Williams
Elaine Renee Bush: Store Clerk
Eda Reiss Merin: Mrs. Remington
Key Crew:
Director: Roger Spottiswoode
Producer: Raymond Wagner
---
Related News:
---
Related Articles:
---