Unbreakable (Touchstone Movie)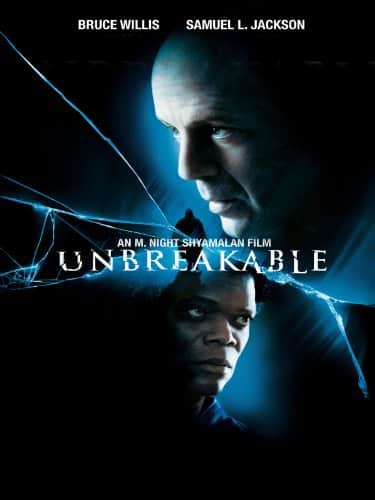 Unbreakable Details:
Bruce Willis and Samuel L. Jackson star in a mind-shattering, suspense-filled thriller that stays with you long after the end of this riveting supernatural film. After David Dunn (Willis) emerges from a horrific train crash as the sole survivor — and without a single scratch on him — he meets a mysterious stranger (Jackson). An unsettling stranger who believes comic book heroes walk the earth. A haunting stranger, whose obsession with David will change David's life forever.
Key Cast:
Bruce Willis: David Dunn
Davis Duffield: 20-year-old David.
Samuel L. Jackson: Elijah Price / Mr. Glass
Johnny Hiram Jamison: 13-year-old Elijah.
Robin Wright: Audrey Dunn
Laura Regan: 20-year-old Audrey.
Spencer Treat Clark: Joseph Dunn
Charlayne Woodard: Mrs. Price
Eamonn Walker: Dr. Mathison
Leslie Stefanson: Kelly
Michaelia Carroll: Babysitter
Whitney Sugarman: Physical Therapist
Bostin Christopher: Comic Book Clerk
Elizabeth Lawrence: School Nurse
Chance Kelly: Orange Suit Man
Michael Kelly: Dr. Dubin
M. Night Shyamalan: Stadium Drug Dealer
Key Crew:
Director: M. Night Shyamalan
Producers: M. Night Shyamalan, Barry Mendel and Sam Mercer
Writer: M. Night Shyamalan
---
---
---
---