Under the Tuscan Sun (Touchstone Movie)
Here is everything you need to know about the amazing Touchstone movie Under the Tuscan Sun including casting, reviews, fun facts and more. I hope you find this listing informative and helpful!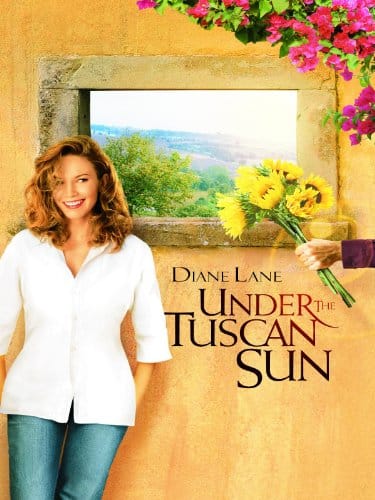 Under the Tuscan Sun Details:
UNDER THE TUSCAN SUN follows San Francisco writer Frances Mayes (Diane Lane) to Italy as a good friend offers her a special gift — 10 days in Tuscany. Once there, she is captivated by its beauty and warmth, and impulsively buys an aging, but very charming, villa. Fully embracing new friends and local color, she finds herself immersed in a life-changing adventure filled with enough unexpected surprises, laughter, friendship, and romance to restore her new home — and her belief in second chances.
Key Cast:
Diane Lane: Frances Mayes
Sandra Oh: Patti
Lindsay Duncan: Katherine
Raoul Bova: Marcello
Vincent Riotta: Martini
Mario Monicelli: Old man with flowers
Roberto Nobile: Placido
Anita Zagaria: Fiorella
Evelina Gori: Nona Cardinale
Kate Walsh: Grace
Pawel Szajda: Pawel
David Sutcliffe: Ed
Jeffrey Tambor: Lawyer
Giulia Steigerwalt: Chiara
Valentine Pelka: Jerzy
Sasa Vulicevic: Zbigniew
Massimo Sarchielli: Nino
Claudia Gerini: Signora Raguzzi
Laura Pestellini: Contessa
Don McManus: Nasty Man
Matt Salinger: Colleague
Elden Henson: Author
Jack Kehler: Apartment Manager
Kristoffer Ryan Winters: David Tour Guide
Nuccio Siano: Gianni
Malva Guicheney: Gianni's Daughter
Dan Bucatinsky: Rodney
Key Crew:
Director: Audrey Wells
Producers: Tom Sternberg and Audrey Wells
Screenplay: Audrey Wells
---
Related Articles:
---