V.I. Warshawski (Hollywood Pictures Movie)
Here is everything you need to know about the amazing Hollywood Pictures movie V.I. Warshawski including casting, reviews, fun facts and more. I hope you find this listing informative and helpful!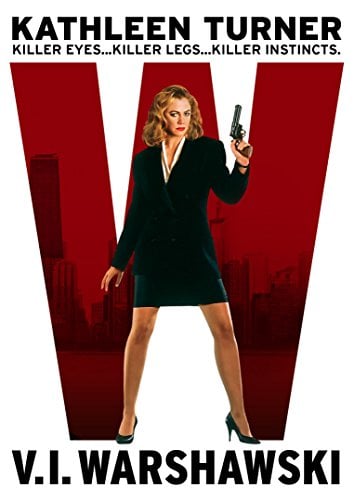 V.I. Warshawski Details:
When brute force isn't enough to handle the human sludge of the Chicago underworld, private investigator V.I. WARSHAWSKI pulls out two of her most lethal weapons — powerful charm and the skill of a woman who knows all the right moves. A tough-talking, fiercely independent, sexy P.I. with a weakness for pretty shoes, Warshawski is armed with brains and seductive sex appeal. When pushed to the edge, Warshawski can play hardball with the Windy City's most wanted, including a cold-blooded killer who has murdered Boom-Boom Grafalk, an ex-hockey player who has caught her eye. A just cause is reason enough for Warshawski to take on a new case, and when Boom-Boom's 13-year-old daughter, Kat, retains the detective to ferret out her father's killer, V.I. uncovers a startling conspiracy for murder and money.
Key Cast:
Kathleen Turner: V.I. Warshawski
Jay O. Sanders: Murray Ryerson
Charles Durning: Det. Lt. Bobby Mallory
Angela Goethals: Kat Grafalk
Nancy Paul: Paige Wilson Grafalk
Stephen Meadows: Bernard 'Boom-Boom' Grafalk
Stephen Root: Mickey
Wayne Knight: Smeissen
Key Crew:
Director: Jeff Kanew
Producers: Penney Finkelman Cox and Jeffrie Lurie
Screenplay: Edward Taylor, David Aaron Cohen and Nick Thiel