When in Rome (Touchstone Movie)
Here is everything you need to know about the amazing Touchstone movie When in Rome including casting, reviews, fun facts and more. I hope you find this listing informative and helpful!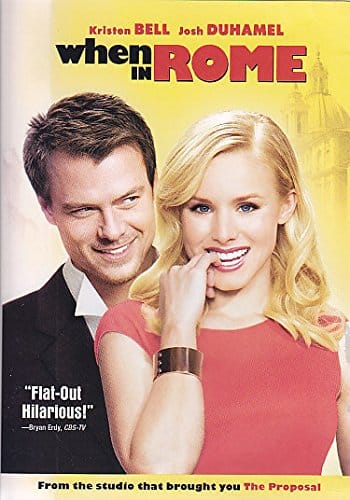 When in Rome Details:
When Beth, an unlucky-in-love New York curator (Kristin Bell), takes a whirlwind trip to Rome for her sister's wedding, an unexpected crush takes her by surprise. Quickly let down, she defiantly plucks coins from the Fontana de Amore, magically igniting the passions of some comically unsuitable suitors. As a charming reporter (Josh Duhamel) becomes zealously smitten, Beth is skeptical that he's the real deal.
Key Cast:
Kristen Bell: Elizabeth Ann "Beth" Martin
Josh Duhamel: Nick Beamon
Alexis Dziena: Joan Martin
Peggy Lipton: Priscilla Martin
Luca Calvani: Umberto
Jon Heder: Lance
Danny DeVito: Al Russo
Dax Shepard: Gale
Will Arnett: Antonio Donatelo
Anjelica Huston: Celeste
Kate Micucci: Stacey
Don Johnson: Beth's father
Bobby Moynihan: Puck
Kristen Schaal: Alona
Lee Pace: Brady Sacks
Alexa Havins: Lacey
Francesco De Vito: Taxi Driver
Efren Ramirez: Juan
Keir O'Donnell: Priest
Key Crew:
Director: Mark Steven Johnson
Producers: Mark Steven Johnson, Gary Foster and Andrew Panay
Writer: Mark Steven Johnson, David Diamond and David Weissman
---
Related Articles:
---