Whispering Canyon Cafe (Disney World)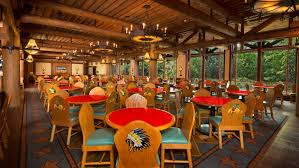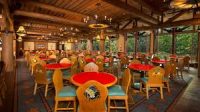 Whispering Canyon Cafe Description:
Whispering Canyon Cafe is a restaurant at the Wilderness Lodge Resort in Walt Disney World.
Gallop on over to this Old Western eatery for games and good eatin' served with attitude.
Tether your trusty steed and mosey into this log-cabin lodge with rough-hewn charm and colorfully named Cast Members who have a reputation for sassing customers. Take your seat in a cowboy or Indian chair and get into some finger-lickin' vittles. There's plenty to go around! Just be careful what you wish for, especially if it's ketchup.
Junior gunslingers will find all kinds of shenanigans to get into: Lincoln logs, coloring, spirited sing-alongs and even hobby horse races. And the wise-cracking wait staff will make sure that grownup cowpokes get in on the fun too! (source)
---
Related News:
---
Related Articles:
---