White Fang (1991 Movie)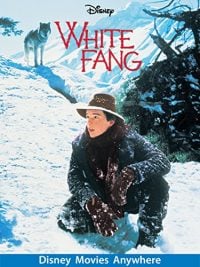 White Fang Description:
Ethan Hawke stars as a young man trying to fulfill his father's dying wish to find gold in the treacherous Yukon Valley. His incredible journey begins when he meets a veteran gold miner (Klaus Maria Brandauer), who guides young Jack to his father's claim. Along the way, Jack discovers a kindred spirit who will change his life forever – a magnificent wolf-dog named White Fang.
Key Cast Members:
Ethan Hawke: Jack Conroy
Jed the Wolfdog: White Fang
Klaus Maria Brandauer: Alex Larson
Seymour Cassel: Clarence 'Skunker' Thurston
Susan Hogan: Belinda Casey
James Remar: Beauty Smith
Pius Savage: Grey Beaver
Bill Moseley: Luke
Clint Youngreen: Tinker
Suzanne Kent: Heather
Michael Davis Lally: Sykes
Aaron Hotch: Mit-sah
Diane E. Benson: Kloo-koosh
Charles Jimmie Sr.: Older Indian
Clifford Fossman: Old Timer 1
Irvin Sogge: Old Timer 2
Tom Fallon: Prospector
Dick Mackney: Sled Dog Prospector
Robert Hoelen: Bar Patron
George Rogers: Registrar
Raymond R. Menaker: Shopkeeper
Davis Fallon: Lookout
Michael A. Hagen: Teenager
Robert Scott Kyker: Frozen Prospector 1
Tom Yewell: Frozen Prospector 2
John Beers: Sykes' Dog Handler
Van Clifton: Bar Pianist
Jim Moore: Violin Player
Marliese Schneider: Woman of the Night
Cherokee the Bulldog: Cherokee
Bart the Bear: Bear
---
Related Articles:
---