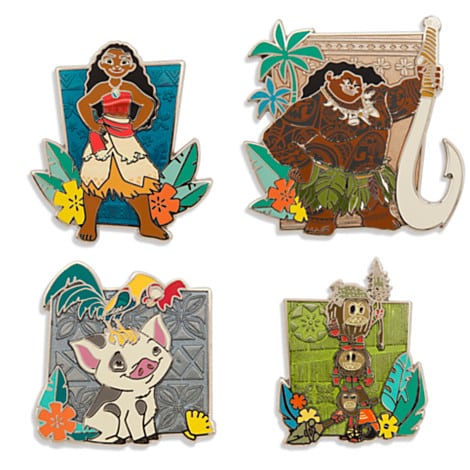 Update 11/7/16: The Disney Store has released a limited edition Moana pin set.
2nd Update 10/25/16: Entertainment Weekly is reporting that Moana will be the first major motion picture to be translated in Tahitian.
Update 10/25/16: The Moana Soundtrack is now available for pre-order. It can be ordered here (Amazon affiliate link) with a release date of November 18th. The movie theme "How Far I'll Go" by Alessia Cara is available now for download here (Amazon affiliate link).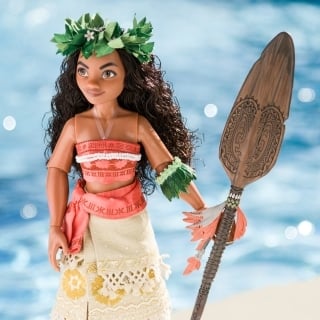 Update 10/13/16: The Disney Store has announced that they will begin selling a limited edition Moana doll on December 6 (DisneyStore.com on Dec 7th). The doll is limited to a run of 6,500 and retails for $119.95.
Update 9/15/16: Disney has released the official full trailer for Moana. Have a look:
Update 9/7/16: In advance of the November 23rd release of Moana, Disney Interactive has released a new mobile game titled Mona Island Life.
Mona Island Life is an adventure game focused on creating and customizing your own island paradise and featuring characters from the movie. The game is currently only available in Canada, but will certainly be released more widely as the movie release draws near.
Update 8/22/16: According to their auditions website, Disney is actively seeking for Moana female character look-alikes for Disney World. The audition listing can be found here.
Update 8/8/16: Disney ran a new Moana trailer last night during NBC's Olympic coverage. Have a look:
Update 7/25/16: Disney Animation Studios has released images, cast names and descriptions of the main characters in Moana on the movie's official Facebook page. Here is a quick rundown.
Update 7/19/16: A new international trailer for "Moana" has surfaced and it gives us a good look at Moana as a baby. Have a look:
Original Post 6/13/16:
Disney has been on a roll lately (with a slight bump in Wonderland) with blockbuster movie releases which is sure to continue throughout 2016. One of their highly anticipated releases later on this year is "
Moana
," an adventure set in the South Pacific featuring the voice of "The Rock" Dwayne Johnson.
Here is Disney's official synopsis of "Moana":
Three thousand years ago, the greatest sailors in the world voyaged across the vast South Pacific, discovering the many islands of Oceania. But then, for a millennium, their voyages stopped – and no one today knows why. From Walt Disney Animation Studios comes "Moana," a sweeping, CG-animated adventure about a spirited teenager who sails out on a daring mission to prove herself a master wayfinder and fulfill her ancestors' unfinished quest. During her journey, she meets the once-mighty demi-god Maui (voice of Dwayne Johnson), and together, they traverse the open ocean on an action-packed voyage, encountering enormous fiery creatures and impossible odds. Directed by the renowned filmmaking team of Ron Clements and John Musker ("The Little Mermaid," "Aladdin," "The Princess & the Frog"), "Moana" sails into UK cinemas 2 December, 2016.
Have a look at the trailer Disney just released for "Moana":
Here is a complete listing of all upcoming Disney movies and release dates.