Earlier today, Disney opened up ticketing for this year's edition of "Mickey's Very Merry Christmas Party." Here are a few of the details you will want to know about the Disney World Christmas events.
This year's Christmas celebration takes place in Disney World's Magic Kingdom and will feature "Mickey's Most Merriest Celebration" on the Cinderella Castle Forecourt Stage on specified Christmas Party Nights. The new show will feature a number of familiar Disney characters including Woody and Jessie from Toy Story, Peter Pan, Snow White and more. It is described to be "an unforgettable Christmas party filled with music, dancing, color and fun."
If you haven't been to the Magic Kingdom for Christmas time, you really need to experience it. It should be a bucket list item for any Disney fan. They do an amazing job decorating all four parks and Disney Springs, but the Magic Kingdom really stands out with its decorations, music and the hot cocoa. No matter if you go in November when the crowds are a bit lighter or closer to Christmas, you are sure to be put in a festive spirit upon arrival.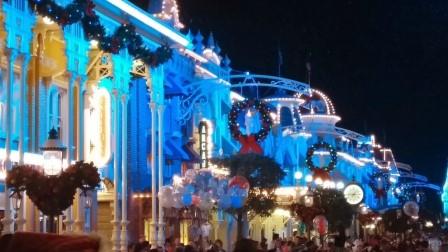 This year, Mickey's Very Merry Christmas Party is scheduled for the following dates:
November 7, 8, 10, 11, 13, 15, 18, 27 and 29
December 1, 2, 4, 6, 8, 9, 11, 13, 15, 16, 18 and 22
Pricing for advance tickets (as opposed to day-of) start at $86 (ages 10+) and $81 (ages 3-9) and get slightly more expensive as you get closer to Christmas.
To order your tickets, visit Disneyworld.com, call 1-407-W-DISNEY or your travel agent should be able to help you out.
If you've visited the Magic Kingdom at Christmas time please leave a message below and let us know what you thought and what your favorite feature was.
Disney Character(s) in this Post:
Mickey Mouse
Snow White (Snow White and the Seven Dwarfs)
Disney Park(s) in this Post:
Magic Kingdom Park