Update 10/15/16: I was fortunate enough to stop by the Magic Kingdom to take in the Halloween festivities. Have a look at some of the highlights:
Quick update 9/18/16: According to our friends at WDWMagic.com, Mickey's Not-So-Scary Halloween Party is sold out for Halloween night, October 31. According to their post, all other nights are still available.
Original Post 9/9/16: Halloween can be fun for kids of all ages no matter where you celebrate it, but there is something about Halloween at Disney World that is just magical. Every year, Disney goes above and beyond to celebrate Halloween at its parks creating a spooky-ish environment in the happiest place on Earth. Here is a quick rundown of everything you need to know about Disney World Halloween. Seriously, if you haven't been to Disney World for Halloween yet, put it on the bucket list. You'll thank me later!
Mickey's Not-So-Scary Halloween Party Details:
(Please note that, as with anything at Disney World, everything is subject to change. Be sure to check out the Disney Parks Blog before making any final travel plans for any last-minute changes)
Location:
The Magic Kingdom at Walt Disney World
Dates:
September 2, 8, 11, 13, 16, 18, 20, 23, 25, 29 and 30
October 2, 4, 6, 7, 10, 11, 13, 14, 16, 18, 20, 21, 23, 25, 27, 28, 30 and 31
Times:
7pm-midnight (park entry for ticket holders begins at 4pm)
Cost:
$67/child; $72/adult (plus tax); Tickets can be purchased here.
Special Halloween Show:
Hocus Pocus Villian Spelltacular (at Cinderellas Castle; 3-5 times per night; details here)
Special Halloween Parade:
Mickey's Boo-To-You Parade (twice a night; details here)
Special Halloween Fireworks:
Happy Hallowishes fireworks (10:15pm each night; details here)
Costume Requirements:
Costumes are encouraged for attendees to Mickey's Not-So-Scary Halloween Party (that's half the fun), but given the amount of safety and security concerns that come with operating one of the world's largest theme parks, Disney does have some requirements and restrictions on costumes.
Here is a quick rundown of Disney World's Halloween dress code. Keep in mind, this is as of 9/8/16. Please be sure to check the official Disney page for any changes before heading to the park.
General
Disney reserves the right to deny admission to or remove any person wearing attire that is considered inappropriate or attire that could detract from the experience of other Guests.
All Guests may dress as their favorite character, but may not pose for pictures or sign autographs for other Guests.
Costumes must be family-friendly and may not be obstructive, offensive, objectionable or violent.
Costumes may not contain any weapons that resemble or could easily be mistaken for an actual weapon.
Costumes may not contain sharp objects, pointed objects or materials that may accidentally strike another Guest.
Guests who do not adhere to these guidelines may be refused entry into, and/or removed from, unless his or her costume can be modified to meet the above standards.
For Guests ages 13 and under:
Costumes and some masks may be worn, as long as the mask does not cover the entire face and eyes are visible.
For Guests ages 14 and older:
Layered costumes or costume props that surround the entire body are strongly discouraged and may be subject to additional security screening.
Costumes may not reach or drag on the ground. (e.g.,full-length Princess dresses)
Capes may be worn if the length does not go below the waist.
Themed T-shirts, blouses, sweatshirts, and hats are acceptable.
Acceptable accessories include: transparent wings, plastic light sabers, toy swords, and tutus. Headwear may be worn as long as it does not cover the face.
Masks of any kind may not be worn.
Special Halloween Characters and Meet n Greets:
Halloween at Disney is a special time and brings out special characters that you may not see normally in the park all dressed up in special Halloween outfits and costumes. In addition to the various characters that participate in Mickey's Boo-to-You Parade, there are a number of special character meet and greets during Mickey's Not-So-Scary Halloween Party. Here is a quick rundown (all are subject to change, of course):
Main Street, U.S.A.
Mickey Mouse at Town Square Theater
Tinker Bell
Adventureland
Aladdin, Princess Jasmine, Jafar and Abu
Tarzan, Jane and Terk
Captain Jack Sparrow
Liberty Square
Jack Skellington and Sally
Fantasyland
Belle and Gaston
Alice, the Mad Hatter and the Queen of Hearts
Ariel
Merida
Pooh, Tigger, Eeyore and Piglet
Cinderella
Rapunzel
Princess Tiana
Storybook Circus
The Seven Dwarfs
Donald and Daisy
Minnie Mouse
Goofy
Cruella De Vil
Tomorrowland
Buzz Lightyear and Lots-o'-Huggin' Bear
Special Halloween Food: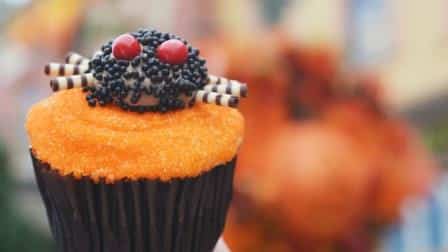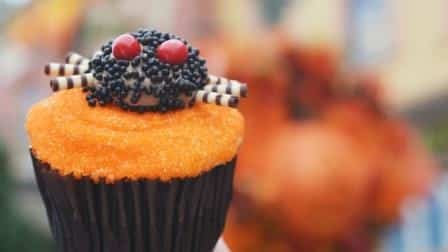 What would a special Disney World event be without special food offerings? The Disney World Halloween extravaganza is no exception. A number of Magic Kingdom shops and eateries will be offering special treats for Mickey's Not-So-Scary Halloween Party. Here is a quick rundown (via the Disney Parks Blog):
Main Street Bakery
Chocolate Worms and Dirt Cupcake
Vanilla Spider Cupcake
Halloween Sugar Cookie
Plaza Ice Cream Parlor
Ice Cream Cookie Sandwich
Gaston's Tavern
Enchanted Pumpkin Spiced Cupcake
Storybook Treats
Candy Corn Ice Cream Cone
The Friar's Nook
Ghoulish Strawberry-lemonade Slushy
Throughout the Park
Candy Corn Cotton Candy
Vampire Mickey Popcorn Bucket
Halloween Popcorn Bucket
Halloween Hot Mug
Poison Apple Stein
Special Halloween Products:
You wouldn't expect Disney to let a special park event go by without creating special merchandise for sale in park stores, would you? This year, Disney has gone all-in with its selection of Halloween-themed merchandise including special posters, t-shirts, household items, stuffed animals, lanyards and more. A full rundown of the Disney Halloween merchandise available this year at park stores can be found here.
Special Halloween Pics:
Disney is offering special Magic Shots and Animate Magic Shots including ghosts and headless horsemen just for Mickey's Not-So-Scary Halloween Party. Here is a quick preview video they whipped up to promo the special pics:
Did you attend Mickey's Not-So-Scary Halloween Party this year or in the past? Leave a comment below and let everyone know what you thought!