Disneyland Tomorrowland
Last Updated on: February 1st, 2023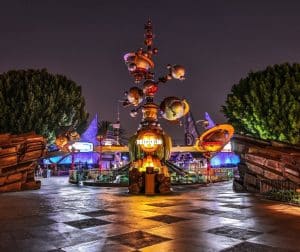 Tomorrowland is a themed area located within Disneyland Park, one of two theme parks at the Disneyland Resort in Anaheim, California. The area is designed to showcase the future and technological advancements, featuring a variety of attractions and experiences that take guests on a journey through time and space.
Tomorrowland features several classic attractions such as Space Mountain, a roller coaster that simulates a journey through space, and Star Tours, a motion simulator ride that takes guests on a journey through the Star Wars galaxy. The area also features several live entertainment options such as the Tomorrowland Terrace Dance Party, a live show featuring popular music, and the Tomorrowland Expo, an interactive experience that takes guests behind the scenes of futuristic technology.
Tomorrowland also includes dining options such as the Alien Pizza Planet and the Redd Rockett's Pizza Port, both themed around space and futuristic concepts and also features several souvenir shops like the Star Trader and the Space Place.
Your complete guide to each of the rides, attractions, restaurants and shows, past and present in Disneyland Park's Tomorowland.
Below is a rundown of everything you can find in this land. click on a listing to find out a ton more details about it.
---
---
---
---
---