Unquestionably the most anticipated Disney theme park addition in decades, the new Star Wars: Galaxy's Edge (aka Star wars Land) at Walt Disney World and Disneyland is sure to be a monster draw for the resorts in 2019 and beyond.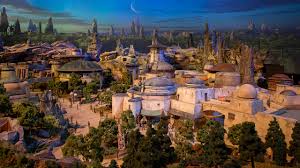 The West Coast opening of the land is almost upon us. The following is a rundown of what we currently know and, as always, I will be updating this post as new details are revealed….
Contents of This Article:
When Does Star Wars: Galaxy's Edge Open?
It had been widely speculated for some time that Star Wars: Galaxy's Edge would open in 2019. This was confirmed at the D23 fan expo in July 2017 when Walt Disney Parks and Resorts Chairman Rob Chapek announced that Galaxy's Edge at both Disneyland and Disney World would open before the next D23. D23 is a bi-annual event with the next one scheduled for Summer 2019.
The time frame was further narrowed down in May 2018 when Disney announced the 'seasons' Galaxy's Edge would open in. As it stands now, after that announcement, the Disneyland version will open in 'summer 2019' and the Disney World one a bit later in 'late fall 2019.'
Update 3/7/19: Bob Iger just announced that Galaxy's Edge will open at Disneyland on May 31, 2019 and at Walt Disney World's Disney's Hollywood Studios on August 29th!
Update 7/15/19: We now know that the land's second ride, Star Wars Rise of the Resistance, will open on December 5, 2019 (Disney World); January 17, 2020 (Disneyland).
Where Will it be Located?
In Disneyland, Galaxy's Edge will be located in Disneyland Park, in a previously unoccupied section behind Frontierland and abutting Fantasyland and Mickey's Toontown.
In Walt Disney World, the new land will be located in Disney Hollywood Studios in the back left corner of the park. It will border the new Toy Story Land and Grand Avenue sections of the park.
Here is a quick look at the massive construction site:
What Will it be Like?
Star Wars Land will be a fully-immersive park area. Disney's Imagineers are hard at work combining hardscapes, visuals and the latest technology to give visitors the feeling that they are really in a star wars movie setting. The land is being constructed to resemble a village called Black Spire Outpost. Of course, as with all Disney Park attractions, Black Spire Outpost has a very detailed backstory. Here is how Disney recently described the village:
The largest settlement on the planet Batuu, Black Spire Outpost is an infamous stop for traders, adventurers, and smugglers traveling around the Outer Rim and Wild Space. Off the beaten path, this outpost has become a haven for the galaxy's most colorful — and notorious — characters. Widely known for the petrified remains of its once towering ancient trees, the spires now stand guard across the river valleys and plains and have long captured the imagination of travelers to this planet. To the first settlers, these petrified spires became more than just landmarks; they became the heart of the outpost itself.
And here are a couple of videos showing the conceptual models of the land:
Here is an amazing new behind-the-scenes look at the land which was aired during the 2018 Disney Christmas Day Parade:
Update 5/29/19:
On the day of the land's official rope drop, Disney Parks has released our first fan walk-through video at Galaxy's Edge. Have a look:
New Area Star Wars Music:
At Destination D in November 2018, we found out that legendary Star Wars conductor John Williams is hard at work on a new score specifically for the new land. Here is a quick peek at the maestro at work:
In May 2019, Disney released the Star Wars: Galaxy's Edge Symphonic Suite (Music Inspired by the Disney Themed Land). You can listen to it via a number of music-streaming services here.
Play Disney Parks App Integration:
Using the Play Disney Parks app, guests can transform their smart phones into their own Star Wars datapad. You'll be able to engage with the immersive land, interacting with droids, door panels and antenna arrays. You'll also be able to use the app to translate various Star Wars languages and learn what is hidden inside crates and containers scatter around the land. The app will also feature Outpost Control- a multiplayer game that you can play and interact with the land and its characters even further and earn a few galactic credits.
What Rides Will it Have?
We are still light on ride details, but we do know the two attractions will be Millennium Falcon: Smugglers Run and Star Wars: Rise of the Resistance.
Disney has described Millennium Falcon: Smugglers Run as follows:
One of the land's two signature attractions will put you in the cockpit of the Millennium Falcon, piloting the ship, shooting blasters or preparing for hyperspace – all while completing a critical mission. But how you perform on the mission holds even bigger stakes: perform with skill and you may earn extra galactic credits, while bringing the ship back banged up could put you on the list of a bounty hunter. End up on Harkos's list and you may face a problem if you show up at the local cantina. (source)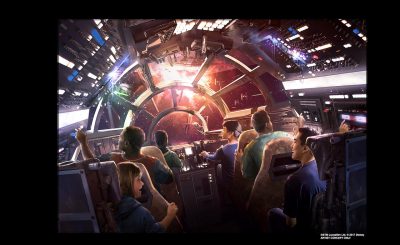 Disney has described Star Wars: Rise of the Resistance as follows:
This attraction, "built on a scale we've never done before," will make guests feel like they're inside a hangar bay in the middle of a battle between the First Order and the Resistance. (source)
Please visit my separate posts on Millennium Falcon: Smugglers Run and Star Wars: Rise of the Resistance for wayyy more information about the rides including promo videos and images.
What Characters Will it Have?
It has been confirmed that our old Rebel friend Nien Numb, who first appeared in Return of the Jedi, will play a key role in the new land.
R3X, the pilot from Star Tours will also play a role as the DJ in Oga's Cantina and will be voiced by original actor Paul Reubens (yes, Pee-Wee Herman).
Dok-Ondar is a galactic collector and trader and the proprietor of his own shop in Black Spire Outpost titled Dok-Ondar's Den of Antiquities.
We also know that everyone's favorite pirate from The Clone Wars and Rebels, Hondo Ohnaka will live in the new land in the form of a very advanced audio-animatronic.
An intriguing participant in the construction of Galaxy's Edge was Frank Oz, most known to Star Wars fans as the voice of Yoda. Because of OZ's involvement, many have speculated that Yoda (or at least his voice) will have a presence in the new land.
One can safely assume that the many Star Wars characters already setting up shop in Hollywood Studios  and Disneyland will find their way to the new world as well. This includes Kylo Ren, Rey, BB-8, Chewbacca, and many more.
What Restaurants Will it Have?
Of course, no Star Wars land is complete without a cantina and in Galaxy's Edge, we will have an interesting place called Oga's Cantina.
Oga's Cantina will be fully immersive and somehow technologically connected to the Millennium Falcon ride. It will serve exotic, unique beverages and characters. Presumably, this cantina will have some resemblance of Mos Eisley from A New Hope. As mentioned earlier, the venue will feature DJ R3X, the former Star Tours pilot droid. Please visit my separate post about Oga's Cantina for more information about the restaurant along with concept art.
There will also be a number of quick service restaurants and carts that will be serving up some unique (to say the least) food and drink items. Here is a rundown of these spots and the a quick description of each from Disney Parks:
Docking Bay 7 Food and Cargo – Chef Strono "Cookie" Tuggs has traveled throughout the galaxy following his longtime gig as the chef at Maz Kanata's castle on Takodana and brings exotic flavors and unusual dishes to his traveling diner "Tuggs' Grub."
Ronto Roasters – A recycled podracing engine fires up a spit of exotic meats, meticulously turned by a former smelter droid, 8D-J8. Guests can even sample some of the tasty Ronto fare.
Milk Stand – The place to go to get your farm-fresh blue milk or green milk, direct from Bubo Wamba Family Farms.
Kat Saka's Kettle – One of the many street market stalls, this grain vendor sells the ever-popular Outpost Mix (sweet and salty popcorn snack with a hint of spice).
Special Coke Bottles:
Coca-Cola products will be the official soft drinks of Galaxy's Edge although you may not recognize them at first glance. To keep with the immersive themeing of the land, the various soft drinks will be served in special Coke bottles. Here's a sneak peek at what the new bottles will look like:
What Shops and Merchandise Will it Have?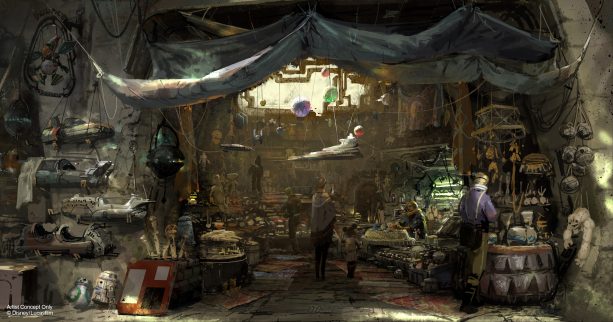 Disney recently announced the names and descriptions of gift shops. Here is a quick rundown:
Dok-Ondar's Den of Antiquities – For those in the know, Dok-Ondar is the Ithorian you seek for selling and buying rare and uniquely-valued items from across the galaxy and spanning all eras.
Savi's Workshop – Handbuilt Lightsabers – Guests come to the workshop to meet with the Gatherers – a secretive group of people who have dedicated their lives to restoring balance in the galaxy by passing on their knowledge of Jedi lore and the Force. The workshop Master guides guests to customize and build their own unique lightsabers, and instructs them on the ways of the Jedi.
Droid Depot – Visitors to Mubo's workshop can choose parts and construct their own individual astromech droids to accompany them on their journey, and then take them home with them.
First Order Cargo – A spaceport hangar bay serves as the temporary base and landing spot for the First Order. First Order officers have brought in crates of gear, uniforms and other supplies to win the hearts and minds of locals and visitors to Black Spire Outpost.
Resistance Supply – Resistance members and local sympathizers oversee a makeshift stall that supplies Resistance uniforms, pins, badges, hats, helmets, jackets, maps, tools, training supplies, food rations and other items.
No doubt you will be able to buy the new adoptable Loth-Cat (sort of) stuffed animals at many of these new merchandise spots. From the looks of it, they appear to be very similar to the banshees you can buy at Pandora.
Earlier this year, the Disney Parks Blog gave us a glimpse at some of the other 'Toydarian' merchandise that will be found in Galaxy's Edge shops and a very brief description of the experience: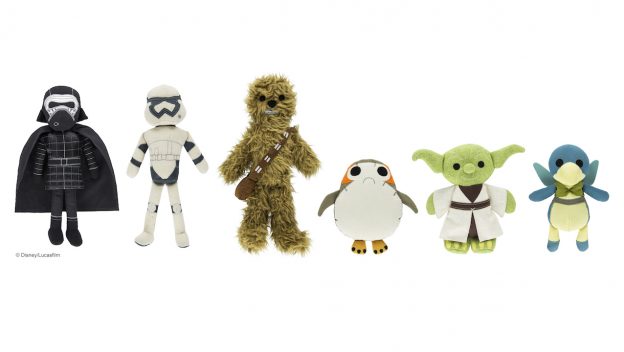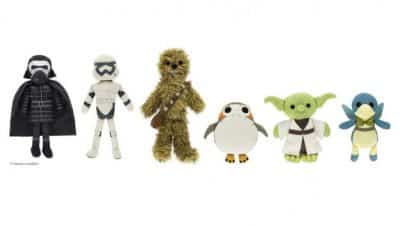 Guests will also be able to explore a street market run by a Toydarian, a character first introduced in "Star Wars: The Phantom Menace." Among his wares will be handcrafted toys made by local artisans, like those seen above.
Earlier this year, Disney released the first wave of Galaxy's Edge merchandise, which will be found in these marketplaces in the future. Here is a post I wrote about that launch along with pictures of the new merchandise.
Will there be Star Wars Galaxy's Edge Fastpasses or Maxpasses?
Not at launch. In order to get into the new land, guests will need a reservation. Here are the details:
Disneyland Galaxy's Edge Reservations Details:
From May 31 to June 23, 2019, reservations will be available to guests staying at one of the three Disneyland resorts. Reservation time blocks will be assigned to those guests providing they have a theme park ticket purchased. One reservation is available per registered guest. If the hotel reservation is canceled the Star Wars land reservation is canceled.
Guests with scheduled reservations can check in up to 2 hours ahead of their reservation time at Star Wars Launch Bay.
Beginning on May 2nd, non-resort guests had the chance to make Galaxy's Edge reservations online for up to 6 guests. Unfortunately, these reservations went about as quickly as you would expect and are no longer available.
Beginning on June 24, 2019, reservations will no longer be required and the land will be opened up to all Disneyland Park guests subject to capacity, of course.
Disney World Galaxy's Edge Reservations Details:
There have been no details released yet about Disney World Galaxy's Edge reservations. One can make the assumption that Disney may be waiting to see how the Disneyland reservation program goes before making anything official for Disney World. One challenge they'll have to deal with is the volume of resort guests. Slotting reservations for Disneyland's 3 resorts is much easier than for the dozens of resorts at Disney World.
Keep an eye on this post. I'll be updating this as more details about the Disney World reservation process is released.
Extra, Extra Magic Hours at Disney's Hollywood Studios:
To deal with the anticipated capacity issues, Disney has announced a significant extension of operating hours for Disney's Hollywood Studios beginning in September. Extra, Extra Magic Hours will run (for now) from September 1-November 2, 2019. During this period, the park will be open from 6-9am for guests of Disney World resorts and other select area resorts. Guests will have access to Galaxy's Edge and TOy Story Land attractions as well as a number of other attractions scattered around the park.
Hollywood Studios will also open at 6am from August 29-31, 2019, but this is for all park guests; not just resort guests.
More information about Extra, Extra Magic Hours can be found here.
Disneyland Star Wars: Galaxy's Edge Map:
Disney recently released the detailed Galaxy's Edge map for Disneyland. You can view the amp for the vast new land here.
Star Wars Hotel:
It is worth noting here that there is a fully-immersive Star Wars hotel in the works in Walt Disney World. This new hotel will likely be connected technologically, if not physically, to Galaxy's Edge. According to Oh My Disney, the resort will be" a fully immersive, multi-day Star Wars adventure aboard a luxury starship."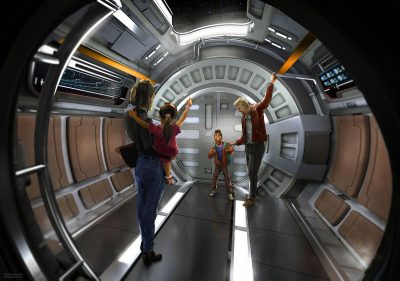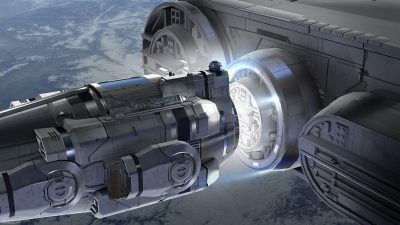 It will most certainly not be open in time for the launch of Galaxy's Edge. I am tracking progress on that project in a separate post here.
Land Opening and Dedication Ceremony:
The Disney Parks Blog will be live streaming the new land's opening and dedication ceremony on Wednesday, May 29th at 11:20 ET (8:20 PT). You can view the live stream here.
Update 5/30/19: In case you missed the opening ceremony, here is the video recording of the historic event: