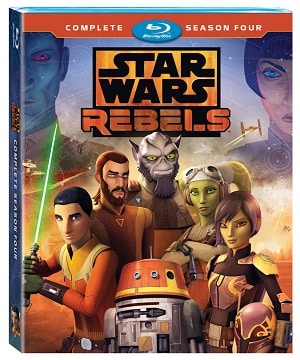 Disney has announced the upcoming release date for the Star Wars Rebels Season 4 Blu-ray and DVD. Both will be released on July 31st, but can be pre-ordered now through Best Buy (affiliate link). The new Blu-ray and DVD will contain all 15 episodes from the series' final season as well as a number of exclusive bonuses.
Here is a description of some of the bonuses you can expect:
Listen as Executive Producer Dave Filoni shares his wisdom on six audio commentaries, and go inside the show as the series' creators explore what brought Ezra, Kanan, Hera, Sabine, Zeb, and Chopper to the end of their journey in the extra "Ghosts of Legend."
Learn about the nature of the Force as Filoni shares insights into the power that binds the galaxy together in Rebels and across the Star Wars saga with the special, "Forces of Rebellion."
Meet the mastermind behind the score from the series in a special behind-the-scenes feature on the composer, "Kevin Kiner: The Rebel Symphony," and discover what inspired the show's most enduring musical themes. (source)
In case you missed Star Wars Rebels Season 4, here is a little taste of what you can expect:
Note: Some links on my site may be affiliate links. For a list of the programs I belong to, please visit my disclosures page.