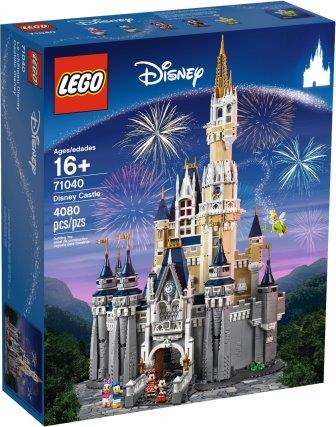 Update 9/2/16: The new LEGO Cinderella Castle (set #71040) is now officially on sale at the LEGO Shop for $349.99 (not incl tax/shipping). It looks amazing. It should be noted that many of the early reviews are saying that this is an advanced build and not recommended for small children, which is to be expected, I guess, with 4,000 pieces!
Have you bought this set yet? Leave a comment below and let everyone know what you think!
Update 7/31/2016: A new LEGO Cinderella Castle is indeed on its way and it is amazing! It officially goes on sale on September 1, 2016 and will retail $349.99 in the US. The set included 4,000 pieces and stands well over 2 feet tall, when constructed.
The Cinderella's Castle set will include 5 minifigures: Mickey Mouse (different than the Series 1 figure), Minnie Mouse (different than the Series 1 figure), Donald Duck (similar to the Series 1 figure), Daisy Duck (similar to the Series 1 figure) and Tinker Bell.
Here is an awesome video from LEGO that shows off the new set, its features and the amazing detail that went into its design. Have a look:
Original post 4/19/2016: The LEGO collector world is abuzz these days with rumors that a new Disney set will be released later on this year and speculation about what it could be. The strongest rumors lately have been that it will be a replica of the Magic Kingdom's Cinderella's Castle along with new minifigure characters.
If it is a LEGO Cinderellas Castle, it will likely be a very large and expensive set. Of course, this all comes as the new LEGO Disney minifigures are about to be released.
More info on the possible LEGO Cinderella Castle set including potential concepts for what the set might look like can be found here.