Dr. Cynthia Lair (Body Wars)
Last Updated on:
Who is Dr. Cynthia Lair?
Dr. Cynthia Lair is a fictional character featured in the "Body Wars" attraction at Epcot's Wonders of Life pavilion in Walt Disney World Resort. The attraction, which opened in 1989 and closed in 2007, was a simulator ride that took visitors on a journey through the human body to explore its inner workings.
In "Body Wars," Dr. Cynthia Lair is a leading scientist and researcher who guides visitors on a mission to explore the human body from a miniature submersible vehicle. She is portrayed by actress Elisabeth Shue, who appears in live-action footage at the beginning and end of the attraction.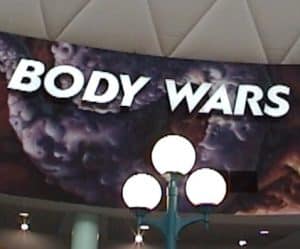 The Collection:
Here is the Internet's largest collection of Dr. Cynthia Lair -related movies, TV shows, toys and other products. As always, new pieces are added to this collection regularly.
---