Ian Lightfoot (Onward)
Last Updated on: February 20th, 2023
Who is Ian Lightfoot?
Ian Lightfoot is a fictional character from the 2020 animated film "Onward" produced by Pixar Animation Studios. He is the protagonist of the story, a teenage elf who lives in a suburban fantasy world. He and his brother Barley discover a magical staff that allows them to cast a spell to bring back their father for one day. Along with his brother they set on a journey to complete the spell and spend one more day with their father, but they soon find out that magic is not as easy as they thought. Ian is portrayed as a shy, introverted teenager who struggles to connect with his brother and father. He's also known for being a little bit insecure, but throughout the journey he gains confidence and learns to be more assertive and to take risks.  The character was played by Tom Holland.
The Collection:
Here is the Internet's largest collection of Ian Lightfoot related movies, TV shows, toys and other products. As always, new pieces are added to this collection regularly.
Movie Appearances
---
Related Products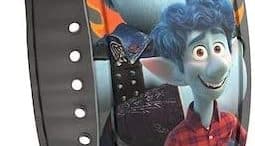 Onward MagicBand Details: Created Exclusively For Disney Theme Parks And Resorts With A Simple Touch, You Can Redeem Disney Fastpass+ Selections, Enter Any One Of…
---
---