Jessica Rabbit (Who Framed Roger Rabbit)
Last Updated on: October 1st, 2022
Who is Jessica Rabbit?
Jessica Rabbit is a fictional character from the 1988 live-action/animated film "Who Framed Roger Rabbit." She is a cartoon actress and the wife of the titular character, Roger Rabbit. She is known for her beauty, sex appeal, and her signature catchphrase "I'm not bad, I'm just drawn that way." She is voiced by actress Kathleen Turner and her singing voice was provided by Amy Irving. in the film.
Jessica Rabbit is a cartoon actress who is married to Roger Rabbit. She is depicted as a beautiful, seductive and voluptuous woman who is often the object of other men's desire. She is also a loving and devoted wife to Roger, who is falsely accused of murder. The film explores the theme of jealousy and infidelity, as Jessica is often suspected of being unfaithful to Roger, but ultimately proves her innocence and loyalty. She is considered one of the most iconic and memorable characters from the film and her sultry performance of "Why Don't You Do Right?" is a highlight of the film.
The Collection:
Here is the Internet's largest collection of Jessica Rabbit related movies, TV shows, toys and other products. As always, new pieces are added to this collection regularly.
Movie Appearances
---
Park Appearances
---
Related Products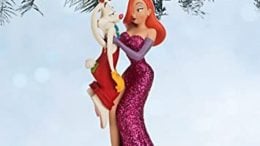 Why don't 'cha do right by the holidays and "p-p-please" hang this sparkling Disney Store Roger and Jessica ornament on your family tree, animating the…
---
---
In the News
Disneyland updating Roger Rabbit Ride with Jessica Rabbit in lead role, September 15, 2021
---