Julieta Madrigal (Encanto)
Last Updated on: November 4th, 2022
Who is Julieta Madrigal?
Julieta Madrigal is a central character from Disney's "Encanto" (2021), which explores the magical Madrigal family's dynamics in a mystical part of Colombia. Julieta, voiced by Angie Cepeda, is the mother of three children: Isabela, Luisa, and Mirabel, and is married to Agustín Madrigal. She holds a nurturing and caring role within the family, emphasized by her magical ability to heal injuries and ailments with the food she prepares.
Julieta's character embodies the themes of love, care, and selflessness, often putting her family's needs above her own. Her magical gift reflects her nurturing nature, as she is able to cure various ailments with her culinary creations, making her an indispensable member of the Madrigal family and the community at large.
Throughout the narrative, Julieta's bond with her daughters, particularly with Mirabel, who did not receive a magical gift, is explored. She supports Mirabel through the emotional struggles associated with feeling inadequate within a family of magically gifted individuals. Julieta's love and understanding provide a comforting presence for Mirabel and her other daughters as they navigate through the challenges and expectations associated with being part of the magical Madrigal lineage.
Moreover, Julieta's relationship with her husband Agustín depicts a loving and supportive partnership. They share a deep bond and navigate together the pressures and joys of raising their family in the unique environment of Encanto.
Julieta Madrigal's character contributes significantly to the emotional depth and family-centered themes of "Encanto." Her role highlights the importance of unconditional love, support, and acceptance in fostering a sense of belonging and self-worth among family members, enriching the narrative of the film with heartwarming and poignant moments.
The Collection:
Here is the Internet's largest collection of Julieta Madrigal related movies, TV shows, toys and other products. As always, new pieces are added to this collection regularly.
Movie Appearances
---
Related Products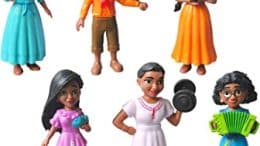 6 Different Design Figures Cake Toppers In 1 Package. Disney Encanto anime cake toppers set includes 6 pcs different styles. Use them to decorate cakes…
---
In the News
---