At Disney News, we are constantly in search of new and interesting Disney-related products to share with you in the DINUS Mall.
This Disney Cinderella's Romantic Castle LEGO Set is something we thought our readers might be interested in. If you'd like more information about this item, please click on the "Shop Now" link below.
Be sure to check back often as we are adding new products to the Mall daily!
---
Disney Cinderella's Romantic Castle LEGO Set Details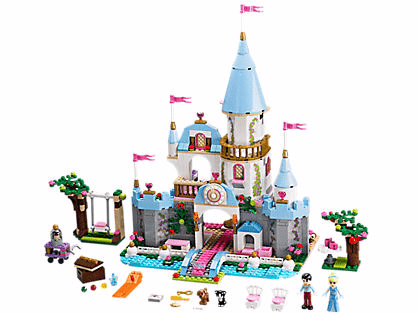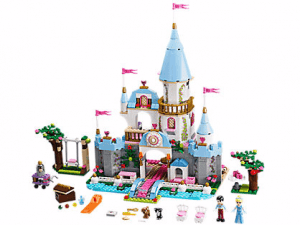 Prince Charming has invited Cinderella to a romantic royal ball! Play with Lucifer the naughty cat and with Bruno the frisky dog. Explore all the different rooms at the Castle and find the key that unlocks the treasure chest with all the jewels. Romance is in the air as Cinderella and Prince Charming enjoy their first turn around the dance floor and a cozy moment in front of the fireplace. Just make sure Cinderella leaves the Castle before the big clock strikes 12 and the magical spell wears off. And remember to leave behind her famous glass slipper on the stairs outside so the Prince can find her again! Includes 2 mini-doll figures: Cinderella and Prince Charming mini-doll figures, plus Lucifer the cat and Bruno the dog.
Cinderella's Romantic Castle LEGO Set Features:
Includes 2 mini-doll figures: Cinderella and Prince Charming, plus Lucifer the cat and Bruno the dog
Features tall towers, flags, throne, clock, bedroom for Cinderella, beds for Lucifer and Bruno, outdoor eating area, river, bridge, flowers and a swing
Accessories include Cinderella's enchanted shoe, a hidden love letter, tiara, 5 heart-shaped diamonds, treasure chest and key for the door, a lipstick and a brush
Also includes a bone for Bruno and a bowl with milk for Lucifer the cat
Help Cinderella get ready in the bedroom
Discover the hidden love letter under her bed
Take a romantic walk over the bridge and give Cinderella a push on the -swing
Feed Lucifer and Bruno and tuck them into their beds
Cinderella's Romantic Castle measures over 11" (30cm) high, 9" (25cm) wide and 8" (22cm) deep
SHOP NOW