At Disney News, we are constantly in search of new and interesting Disney-related products to share with you in the DINUS Mall.
This Disney Doc McStuffins Rosie the Ambulance LEGO Set is something we thought our readers might be interested in. If you'd like more information about this item, please click on the "Shop Now" link below.
Be sure to check back often as we are adding new products to the Mall daily!
---
Disney Doc McStuffins Rosie the Ambulance LEGO Set Details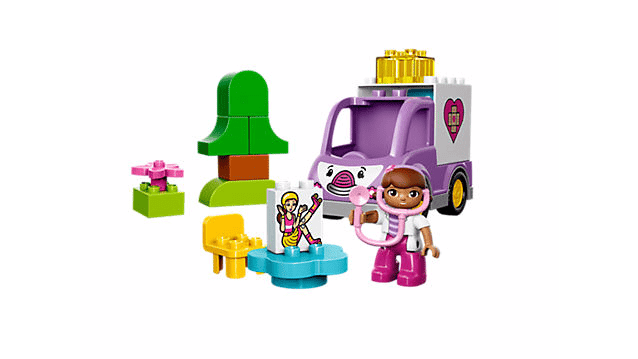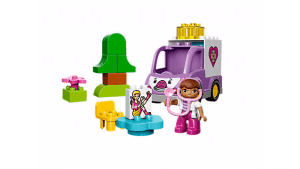 Rush to the rescue with Doc McStuffins™ and Rosie! Dress-up Daisy was skating in the garden and has hurt her leg. Put the decorated brick of poorly Daisy on the table while Doc examines the injury with her magic stethoscope, then turn the double-sided brick around to make Daisy's leg all better! Young children will love Rosie the buildable ambulance and enjoy helping injured toys everywhere with this LEGO® DUPLO® brand Doc McStuffins™ set. Includes 1 LEGO® DUPLO® figure: Doc McStuffins with stethoscope. Combine with 10606 Doc McStuffins Backyard Clinic for toys who need further treatment.
Doc McStuffins Rosie the Ambulance LEGO Set Features:
Includes 1 LEGO® DUPLO® figure: Doc McStuffins with stethoscope
Features a buildable Rosie the Rescuer ambulance and a buildable tree
Accessories include a table, chair, flower and a Dress-up Daisy decorated brick as a story starter
Turn the double-sided decorated brick to first show Dress-up Daisy with an injured leg and then flip it over to magically make it better!
Help your child master basic building skills with this simple model
Rush to help sick toys in Rosie the Rescuer
Make Dress-up Daisy feel better after her accident
Help Doc find other toys to treat in the ambulance
LEGO® DUPLO® products are specially designed to be fun and easy for little hands
Combine with 10606 Doc McStuffins Backyard Clinic for toys who need further treatment
Rosie the Rescuer measures over 4″ (12cm) high, 5″ (14cm) long and 2″ (7cm) wide
Tree measures over 3″ (10cm) high, 2″ (6cm) wide and 1″ (3cm) deep
SHOP NOW