Son Of Flubber (1963 Movie)
Here is everything you need to know about the amazing Disney movie Son Of Flubber including casting, reviews, fun facts and more. I hope you find this listing informative and helpful!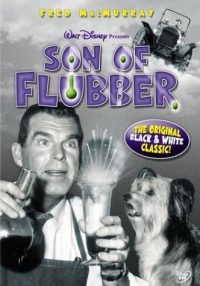 Son Of Flubber Description
Medfield's lovable but hopelessly absent-minded professor, Ned Brainard, bounces back in this classic Disney film Son Of Flubber, with hilarious new mishaps when he experiments with the amazing by-products of his startling anti-gravity substance, "flubber." Windows shatter, football players fly, and thunderstorms materialize indoors as Professor Brainard fights to keep Medfield College from falling into the hands of ruthless land developer Alonzo Hawk.
Key Cast Members:
Fred MacMurray: Professor Ned Brainard
Nancy Olson: Betsy Brainard
Keenan Wynn: Alonzo P. Hawk
Ed Wynn: A. J. Allen
Bob Sweeney: Mr. Harker
Paul Lynde: The Sportscaster
Tommy Kirk: Biff Hawk
Leon Ames: President Rufus Daggett
Charlie Ruggles: Judge Murdock
Ken Murray: Mr. Hurley
William Demarest: Mr. Hummel
Elliott Reid: Prof. Shelby Ashton
Joanna Moore: Desiree de la Roche
Edward Andrews: Defense Secretary
James Westerfield: Police Officer Hanson
Alan Carney: Referee
Forrest Lewis: Police Officer Kelly
Alan Hewitt: Prosecutor
Jack Albertson: Mr. Barley
Stuart Erwin: Coach Wilson
Eddie Ryder: Mr. Osborne
Harriet MacGibbon: Mrs. Edna Daggett
Beverly Wills: Mother in Commercial
Wally Boag: George – Father in Commercial