Here is everything you need to know about the amazing Disney movie Song Of The South  including casting, reviews, fun facts and more. I hope you find this listing informative and helpful!
Song Of The South  Description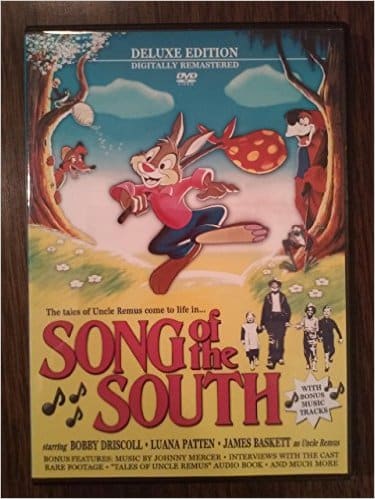 Related Music:
---
Song Of The South  Fun Facts
This was Disney's first live-action film.
The movie is based on the Uncle Remus stories by Joel Chandler Harris.
Zip-a-Dee-Doo-Dah won the 1947 Oscar for Best Song.
Song of the South has never been released for home video.
The star of the movie, James Baskett, was not able to attend its premiere because the city it was held in, Atlanta, was a racially segregated city.
Even though the movie has not been released on home video, it was re-released in theaters 5 times as recently as 1986.
The popular Disneyeland and Disney World ride Splash Mountain was based on this movie.
---
Song Of The South  Cast:
James Baskett: Uncle Remus and Br'er Fox
Bobby Driscoll: Johnny
Luana Patten: Ginny Favers
Glenn Leedy: Toby
Ruth Warrick: Sally
Lucile Watson: Grandmother
Hattie McDaniel: Aunt Tempy
Erik Rolf: John
Olivier Urbain: Mr. Favers
Mary Field: Mrs. Favers
Anita Brown: Maid
George Nokes: Jake Favers
Gene Holland: Joe Favers
Johnny Lee: Br'er Rabbit
Nick Stewart: Br'er Bear
Roy Glenn: Br'er Frog
Clarence Nash: Bluebird
Helen Crozier: Mother Possum
---
Song Of The South  Crew:
Directors: Harve Foster and Winfred Jackson
Producer: Walt Disney
Writers: Morton Grant, Maurice Rapf, Dalton S. Reymond, Bill Peet, George Stallings and Ralph Wright
Music: Daniele Amfitheatrof, Paul J. Smith and Charles Wolcott
---
Song Of The South  Details
Song Of The South  Trailer:
Buy Movie
---