Here is everything you need to know about Walt Disney World's Magic Kingdom's Splash Mountain ride including history, fun facts, photos and more. I hope you find this listing informative and helpful!
Splash Mountain | Disney World Description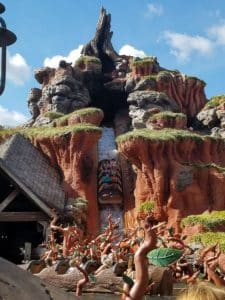 Splash Mountain was a beloved and popular log-flume attraction located in multiple Disney theme parks, including Walt Disney World Resort in Florida. It could be found at Magic Kingdom Park in the Frontierland area. The ride was based on the 1946 Disney film "Song of the South" and featured catchy tunes like "Zip-a-Dee-Doo-Dah."
The story of Splash Mountain followed Br'er Rabbit as he embarked on a daring adventure to escape the clutches of Br'er Fox and Br'er Bear. The attraction combined thrilling drops, twists, and turns with charming scenes from the movie. Guests boarded log-shaped boats and journeyed through various scenes, including Br'er Rabbit's journey from his home in the Briar Patch to the Laughin' Place, a lively and colorful world.
The highlight of Splash Mountain was the thrilling final plunge down Chick-A-Pin Hill, a five-story drop that ended in a big splash. It was a refreshing and exhilarating way to cool off, especially on a hot Florida day.
The attraction's design was impressive, with detailed animatronics, scenic backdrops, and lively music, bringing the story and characters to life. The journey through the attraction was filled with laughter, adventure, and a heartwarming message about friendship and bravery.
---
Splash Mountain | Disney World Fun Facts
Splash Mountain is based on the movie Song of the South; a movie Disney has refused to release since the 1980's (when the ride opened).
The original name of the ride was supposed to be Zip-a-Dee River Run, but the name was changed at the last minute to help promote the Disney (Touchstone) film Splash
The ride's climatic drop is 50 feet.
Top ride speed is 40 mph.
There are 950,000 gallons of water running through the ride.
There is a hidden Mickey in the final scene of the ride. There is a pink cloud floating above the Zip-A-Dee-Lady riverboat that looks like Mickey laying on his back.
If you want to get really wet on this ride, sit in the front. If you are looking for less of a soaking, sit in the rear of the ride vehicle.
A number of the animatronics in this ride were re-purposed from the America Sings show in Disneyland.
---
Splash Mountain | Disney World Details
---