The Journey Of Natty Gann (1985 Movie)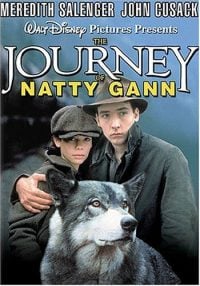 The Journey Of Natty Gann Synopsis:
In Disney's The Journey Of Natty Gann, America is in the depths of the Great Depression. Families drift apart when faraway jobs beckon. In this masterful, atmospheric adventure, a courageous young girl confronts overwhelming odds when she embarks on a cross-country search for her father. During her extraordinary odyssey, she forms a close bond with two diverse traveling companions: a magnificent, protective wolf, and a hardened drifter.
Key Cast Members:
Meredith Salenger: Natty Gann
Jed the Wolfdog: Wolf
John Cusack: Harry
Ray Wise: Sol Gann
Lainie Kazan: Connie
Scatman Crothers: Sherman
Barry Miller: Parker
Verna Bloom: Farm Woman
John P. Finnegan: Logging Boss
Garry Chalk: Chicago Worker
Frank C. Turner: Farmer
Gabrielle Rose: Exercise Matron
Don S. Davis: Railroad Brakeman
Alek Diakun: Station Master
Grant Heslov: member of Parker's Gang
Bruce M. Fischer: Charlie Linfield
Jack Rader: Employment Agent
Matthew Faison: Buzz
Jordan Pratt: Frank
Zachary Ansley: Louie
Campbell Lane: Chicago Moderator
Max Trumpower: Chicago Worker
Movie Trailer:
---
Related Articles:
---