Here is everything you need to know about the amazing Disney movie The Jungle Book (1994 Live Action) including casting, reviews, fun facts and more. I hope you find this listing informative and helpful!
The Jungle Book (1994 Live Action) Description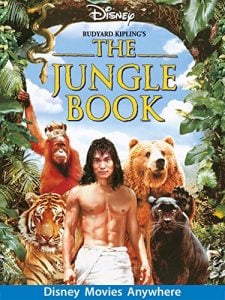 In the 1994 version of Disney's The Jungle Book, raised by wild animals since childhood, Mowgli is drawn away from the jungle by the beautiful Kitty. But Mowgli must eventually face corrupt Capt. Boone, who wants both Kitty's hand and the treasures of Monkey City – a place only Mowgli can find. One of Disney's most beloved animated classics comes to life in this beautifully photographed live-action adaptation of The Jungle Book.
---
The Jungle Book (1994 Live Action) Cast:
Jason Scott Lee: Mowgli
Lena Headey: Kitty Brydon
Joanna Wolff: 5-year-old Kitty
Cary Elwes: Captain William Boone
Sam Neill: Colonel Geoffrey Brydon
John Cleese: Dr. Julius Plumford
Jason Flemyng: Lieutenant John Wilkins
Ron Donachie: Sergeant Harley
Stefan Kalipha: Buldeo
Anirudh Agarwal: Tabaqui
Faran Tahir: Nathoo
---
The Jungle Book (1994 Live Action) Crew:
Director: Stephen Sommers
Producers: Edward Feldman and Raju Patel
Writers: Stephen Sommers, Ronald Yanover and Mark Geldman
---
The Jungle Book (1994 Live Action) Details
The Jungle Book (1994 Live Action) Trailer:
---