The Parent Trap (1998 Movie)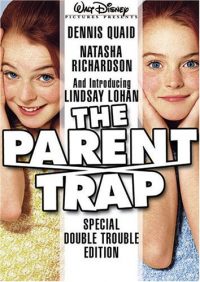 The Parent Trap Description:
In Disney's remake of their classic film The Parent Trap, Hallie Parker, a hip Californian, and Annie James, a proper London miss are identical twins who don't even know each other exists — until they accidentally meet at summer camp. Now they're up to their freckles in schemes and dreams to switch places, get their parents back together, and have the family they've always wished for!
Key Cast Members:
Lindsay Lohan: Hallie Parker and Annie James
Dennis Quaid: Nicholas "Nick" Parker
Natasha Richardson: Elizabeth "Liz" James
Simon Kunz: Martin
Ronnie Stevens: Charles James
Lisa Ann Walter: Chessy
Patrick McCormack: Les Blake
Joanna Barnes: Vicki Blake
Elaine Hendrix: Meredith Blake
Polly Holliday: Marva Kulp Sr.
Maggie Wheeler: Marva Kulp Jr.
---
Related News:
---
Related Articles:
---