Here is everything you need to know about the amazing Disney movie The Pirate Fairy including casting, reviews, fun facts and more. I hope you find this listing informative and helpful!
Description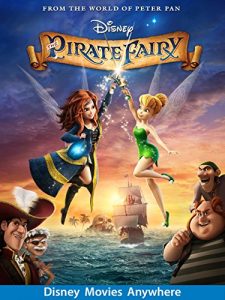 "The Pirate Fairy" is a Disney animated fantasy film released in 2014. It is part of the Tinker Bell film series and is the fifth installment in the franchise. The movie follows the adventures of Tinker Bell and her fairy friends as they embark on a thrilling journey to save Pixie Hollow.
In "The Pirate Fairy," Tinker Bell and her friends discover a mysterious and forbidden place called the Winter Woods. There, they encounter a rebellious and clever fairy named Zarina, who possesses magical powers related to pixie dust. However, when Zarina's experiments with pixie dust go awry, she leaves Pixie Hollow and becomes a pirate captain.
Curious about Zarina's sudden departure, Tinker Bell and her friends set out to find her and bring her back. During their quest, they encounter a crew of misfit pirates led by James Hook before he became the infamous Captain Hook. The fairies discover that Zarina has stolen the Blue Pixie Dust, which is essential for the fairies' abilities to fly. The Blue Pixie Dust gives Zarina's crew the ability to fly as well, which makes them a formidable force.
Throughout the film, Tinker Bell and her friends face challenges and adventures as they try to retrieve the Blue Pixie Dust and bring Zarina back to Pixie Hollow. Along the way, they learn about friendship, trust, and the consequences of tampering with powerful magic.
"The Pirate Fairy" features stunning animation, delightful characters, and a captivating storyline that appeals to audiences of all ages. It also explores the origin of Captain Hook and offers a fresh take on the classic Peter Pan tale. The film showcases themes of redemption, self-discovery, and the importance of staying true to oneself.
With its vibrant visuals, engaging plot, and charming characters, "The Pirate Fairy" is a delightful addition to the Tinker Bell film series and a must-watch for Disney fans who enjoy magical adventures and fairy tales.
---
Cast:
Mae Whitman: Tinker Bell
Christina Hendricks: Zarina
Tom Hiddleston: James Hook
Lucy Liu: Silvermist
Raven-Symoné: Iridessa
Megan Hilty: Rosetta
Pamela Adlon: Vidia
Angela Bartys: Fawn
Jim Cummings: Oppenheimer
Carlos Ponce: Bonito
Jim Cummings: Port
Mick Wingert: Starboard
Kevin Michael Richardson: Yang
Jeff Bennett: Mr. Smee
Rob Paulsen: Bobble
Jeff Bennett: Clank
Grey DeLisle: MC Fairy
Kari Wahlgren: Sweetpea
 Jeff Bennett: Fairy Gary
Jane Horrocks: Fairy Mary
Jesse McCartney: Terence
Anjelica Huston: Queen Clarion
---
Crew:
Director: Peggy Holmes
Producers: Jenni Magee-Cook
Music: Joel McNeely
---
Additional Details
---
The Pirate Fairy Trailer:
---