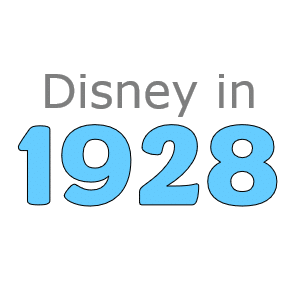 The Walt Disney Company has a rich and lengthy history with decades of amazing movies, shows and park experiences. To commemorate Disney's 100th birthday this year, I am spotlighting the company's history year by year in this new 'Disney by the Years' series.
Here is a quick rundown of everything that happened in the world of Disney in the year 1928. I hope you find this lookback in time helpful and entertaining.
Disney 1928 Company Headlines:
Of course, the year 1928 will always be remembered by Disney fans as the year that Mickey Mouse and Minnie Mouse were born. They both made their debuts in the short Steamboat Willie on November 18. Mickey was actually first seen in the film Plane Crazy, but it was only screened to a single theater audience in May 1928 and wasn't released to a wider audience until 1929. Mickey Mouse was trademarked on September 18, 1928- exactly 2 months before he appeared on the big screen across the country.
The need for Walt to create a new character was born out of a business deal gone horribly wrong during the first few months of 1928. Walt essentially had his staff of animators, along with his popular Oswald the Lucky Rabbit stolen out from under him by film producer Charles Mintz.
Disney 1928 Movie Headlines:
In 1928, Disney was still nine years from its first major theatrical release, but the company did release a number of Silly Symphony shorts to theaters during the year. These included:
January 9 – Harem Scarem
January 23 – Neck 'n' Neck
February 6 – The Ol' Swimmin' Ole
February 20 – Africa Before Dark
March 5 – Rival Romeos
March 19 – Bright Lights
April 1 – Sagebrush Sadie
April 15 – Ride 'Em Plowboy
April 30 – Ozzie of the Mounted
May 14 – Hungry Hobos
May 28 – Oh What a Knight
June 11 – Poor Papa
June 25 – The Fox Chase
July 9 – Tall Timber
July 23 – Sleigh Bells
August 6 – High Up
August 20 – Hot Dog
September 3 – The Sky Scrapper
November 18 – Steamboat Willie
December 30 – The Gallopin' Gaucho
In addition to being the first widely distributed short featuring Mickey Mouse, Steamboat Willie is also known for being the first cartoon with a soundtrack.
That's all for 1928. Stay tuned for in-depth looks at additional years in the very near future!