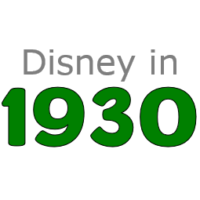 The Walt Disney Company has a rich and lengthy history with decades of amazing movies, shows and park experiences. To commemorate Disney's 100th birthday this year, I am spotlighting the company's history year by year in this new 'Disney by the Years' series.
Here is a quick rundown of everything that happened in the world of Disney in the year 1930. I hope you find this lookback in time helpful and entertaining.
Disney Company Headlines in 1930:
Beyond movies, a few other notable headlines for the Disney Company in 1930 included:
The publication of the first Mickey Mouse comic strip in the New York Mirror.
The first Mickey Mouse Clubs are established.
The theme of 1930 was the company pushing Mickey Mouse across every medium. The character was very young, but his popularity was growing rapidly and Walt and Roy were looking for ways to capitalize as much as possible.
Disney Movies Headlines in 1930:
In 1930, Disney was still seven years from its first major theatrical release, but the company did release a number of Silly Symphony shorts to theaters during the year. These included:
Arctic Antics
Autumn
Cannibal Capers
Frolicking Fish
Midnight in a Toyshop
Minnie's Yoo Hoo
Monkey Melodies
Night
Pioneer Days
Playful Pan
Summer
The Barnyard Concert
The Cactus Kid
The Chain Gang
The Fire Fighters
The Gorilla Mystery
The Picnic
The Shindig
Winter
A few iconic Disney characters made their first appearances in 1930 such as Pluto (in The Chain Gang), Mortimer Mouse (The Barnyard Concert) and Clarabelle Cow (Mickey Mouse comic strip).
That's all for 1930. Stay tuned for in-depth looks at additional years in the very near future!